Posts made in August 10th, 2011
Gosh guys, I have just been exhausted lately. I just did the gold test and it looks like I might be anemic. Which is nothing new—I dealt with severe anemia in high school and college—so I know how to deal with it. Although it is a little shocking because I haven't had an anemia issues since I started eating better. Maybe I'm just not having quite enough spinach and red meat. Hmm. Anyway, onto the eats.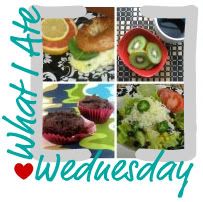 Started off the morning with iced decaf coffee. Working on the
goal for this week
of only eating when I am hungry, I had this around 8am this morning. Normally I'd get right into work and dig into my breakfast, but I've been waiting a bit. When I first started to get hunger twinges, I sipped on my coffee. That held me over until about 10!
And then, at 10, I dug into my yogurt mess. Vanilla yogurt, chia seeds, flax seeds, peaches, almonds, raw oats, and chocolate. Yum!
Not eating according to the clock is really interesting in the workplace. We had a working lunch with my entire office today from 11:30am to 1:00pm. I took my lunch down to the conference room, but was not even close to hungry. So while everyone else was noshing on their lunch, I just sat there. I was pretty proud of my resolve!
I did finally dig into my lunch around 1:30pm. Salad made with lettuce, buffalo chicken (recipe tomorrow!), blue cheese, red onions and hummus. Plus cherries and chocolate.
I've noticed that if I don't eat much, I can go hours and hours without feeling hungry. But as soon as I eat a large meal, I'm ravenous for hours afterward. I don't know if it is that my tummy expands or my metabolism kicks in or what. Anyway, because of this, I was hungry just a few hours later. Dug into my granola bar and hard-boiled egg snack around 3pm.
Dinner tonight was an awesomely delicious and supremely easy pasta recipe from Oh She Glows.  Loved this dish! We had it with a few garlic toasts. And I had a Skinny Pina Colada.
And for dessert, a black bean brownie topped with a touch of Cherry Garcia. Tiny bowl, tiny spoon!
And now, I think I'm going to bed. *yawn*
---
What's the best thing you ate today?
The Cherry Garcia and brownie combo was pretty rockin'.
If you follow me on social media at all (Twitter! Facebook!), you may have already heard that I got some very exciting news this week!
I've been asked by Anytime Fitness—the world's largest co-ed gym—to join their guest blogging team! I'll be writing as part of Anytime Health, which is the food, fitness and support website associated with Anytime Fitness. This is such an amazing opportunity for me, and I am so thrilled to be reaching out to a huge audience of people interested in health and fitness.
So what will I be writing about over at Anytime Health?
Expect the usual organic/local/real food gospel. I think here is a real opportunity to reach out to people not-so-engrained in the healthy eating culture and share my love and passion for real, healthful food. I figure there might be a spirited debate or two over there about food sources, so keep an eye out for that!
Some fun, fresh and easy recipes! Don't worry, I'll make sure to direct you over there from here whenever there is something I think you'll like.
As always, a lot of interaction and discussion.
So what is changing at BTHR?
Right now, you can head on over there and read my introductory post. But after you are through my words, I highly recommend you stick around and dig through the blog past my post. I am joining a team of amazingly talented bloggers with some really fantastic things to say. I am so proud to be apart of an online publication that is bursting at the seams with inspiring stories, great tips and down-to-earth writers.
---
Do you go to an Anytime Fitness gym?
I'm mostly just curious.