Posts made in August 17th, 2011
Happy Wednesday, friends! I took the day off of work today because Babyface and I both had eye appointments this morning. Dilated eyes do not make for a good time on the computer at the office. So, free day! Only, not exactly because it is Puppyface's 5th birthday! So there were celebrations abound today, but more on that tomorrow. Let's get to today's eats.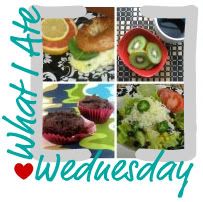 You know how I had that really awesome goal to go to the gym three times
this week
? Well that isn't happening because I totally forgot my gym is closed for the whole week for maintenance. As
Tina
would say…wicked bummer! But thankfully, the weather was cooperating and this morning I
laced up
velcroed on my Vibrams and went for a run. Shocker. I haven't gone for a run just for the sake of running in forever. Knocked out three comfortable miles. Beforehand I fueled up with a homemade granola bar.
After my run, I was rushed to get showered, dressed and to the optometrist's office, so I had Babyface whip me up a smoothie. Not sure exactly what is in this one. I'm guessing some vanilla almond milk, a banana, and a booster pack or two. Slurped it down in the car on our way to our appointments.
Post eye exam and post-dilation, I nibbled on a few mixed nuts I had stashed in my bag while I waited for Babyface to finish up. This blurry cell phone picture is about how my vision was at that point. Getting your eyes dilated sucks. Especially on a sunny day.
Back into the car, I pulverized a banana before we even left the parking lot. We had errands to run and my tummy was not happy that it was almost lunchtime and I hadn't filled it.
While we were out-and-about, Babyface said he was craving some "bad" food. I asked him what he meant and he immediately said, "bacon double cheeseburger." Now there is nothing about that I consider "bad", so we headed home and he fired up the grill and made us some double cheeseburgers with local, responsibly raised beef. No bacon, but delicious nonetheless.
And then I did some microwave magic and whipped us up some 90 second Nutella cakes. I love that these suckers come in at under 300 calories. If you split the recipe into two servings, it is barely a blip on the caloric radar.
After lunch, we headed out to take Puppyface explorin' for her birthday for a few hours. Once we came back, I climbed into bed, read for a little bit and then promptly took a nap. I've been a been a big fan of naps lately. I used to love them all the time growing up and in college, but as I got older, I couldn't help but feel like I was wasting time by catching some Zs. But now I'm starting to see that they make me feel much more alert and awake and are just down right cozy and comfy.
Post nap, I was starving, but had no desire to cook, so the Babyface slaved away and nuked some frozen burritos we had chillin' in the freezer. I made these this past weekend. Whole wheat tortillas, homemade fresh salsa, seasoned black beans, brown rice and cheddar.
I finished the whole thing off with a few of these delicious suckers.
Now I'm off to go do a little writing while snuggled up to Puppyface in bed. Hope you all had a fantastic Wednesday! I promise I'll eat more veggies tomorrow.
---
How do you eat Oreos?
I used to split them and lick out all the cream and the eat the cookies, but then I realized I liked them dunked a lot more! So now I dip the whole shebang in milk until just a teensy bit soggy and CHOMP.