Posts made in September 14th, 2011

Can you guess them?
Currently, Babyface and I live in a not-so-big two bedroom apartment (which is currently without a living room thanks to tornado repairs), but someday, I'd love to have a house that is large enough to have a home gym.  We've tried the home gym thing in the past in the apartment with less-than-stellar results. There is something about the atmosphere of a gym that is so special and conducive to breaking a sweat. Babyface and I have always figured we'd eventually live out in the country, so I imagine when we do move away from our apartment, the commute to a gym will increase greatly (especially considering our current home-to-gym commute is 90 seconds). So how do you make a home gym feel like a "real" gym? You pump in tons of money! At least you do in my dreams. Here's what would be in my ultimate home gym if Babyface and I were rollin' in the cash (which we aren't).
What would be in your ultimate home gym?
Back in the day, I would rarely go a meal—let alone a whole day—without meat. Now, I don't even notice it. It wasn't until I was trying to come up for a title that I realized yesterday's food was almost meatless. So funny how our perceptions can change over time.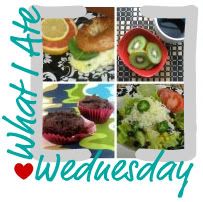 Breakfast (7:30 am)
Overnight oats. Base made with oats, vanilla yogurt, vanilla almond milk, sweet potato butter and chia seeds. Topped with baked microwaved apples and cinnamon. I also had two unpictured dates before my gym trip this morning at 4:50 am. I can barely remember to chew at 4:50 am, much less take a picture.
Plum! That wasn't quite ripe yet.
Mini Klean Kanteen full of 2% milk. I'm a skim lover, but the 2% is where it's at for recovery after a workout. Fats be good!
Lunch (11:30 am)
Corn Chipotle Bisque (which looks disgusting, but tasted yum!) topped with green onions. Plus a chicken sandwich with tomatoes and lettuce on my world famous whole wheat herbed foccaccia. Okay, it isn't world famous yet, but it will be once I post it (some day). Plus chocolate. There is always chocolate.
Snack (3:30 pm)
Banana, hard-boiled egg and a Five Minute No Bake Peanut Butter Granola Bar. Such a great recipe. I make a batch of these almost every week.
Dinner (6:00 pm)
Bean enchiladas (following this exact method) with a dollop of sour cream. Plus a side salad made with iceberg lettuce, yellow peppers, tomatoes and green onions. Topped with Newman's Light Lime. I forgot how crunchy iceberg lettuce is! Yum.
Mini mint chocolate ice cream sandwich. I usually avoid most soy products, but man, I love these. So delicious and the perfect size for a small dessert.
The stats and graphs
Do you like the charts and graphs? Or are they just annoying?
I'm a visual person, so I love charts!