Posts made in September 28th, 2011
My Mama's meatloaf is the stuff of legends.
Relegated to elementary lunchroom horror stories and sitcom fodder, meatloaf tends to get a bad wrap, but I promise you, my Mama's meatloaf will change the opinion of even the staunchest of meatloaf opponents.
That all being said, this isn't my Mama's meatloaf.
Because, well, the elimination diet doesn't allow for red meat. Let alone a full pound of ground cow. So this technically shouldn't be called "meatloaf" at all. It really should just be called "loaf". But that sounds disgusting. Who wants to just eat "loaf"?
So why did I wax on poetically about my Mama's meatloaf if I'm not going to make it for you? Because this vegan version of the American classic is adapted from the simplistic genius of Mama's recipe. I used two different types of beans, oats, and sunflower kernels to approximate the texture of the meatloaf and then filled it with all kinds of delicious flavors. The best part about Mama's meatloaf is the brown sugar molasses and ketchup glaze that goes over top of the meatloaf and gets all gooey and caramelized.
Is this a replacement for a nice, piping hot slice of meatloaf from my Mama's kitchen? No. But it's a pretty good vegan and gluten-free approximation. And completely delicious piled high next to a place of mashed potatoes and steamed green beans. I was really quite happy with the results of this one. The loaf held its form well, it was a little bit gooey and a little bit crumbly (just like "real" meatloaf). The real test of meatloaf? How's it hold up to the next-day sandwich test?
Well, I'd say it passed with flying colors.
Someday I'll share my Mama's recipe with you, but for now, you'll have to try your hand at the vegan version.
Two Bean Meatless Meatloaf
Adapted from my Mama
The two different types of beans help the texture approximate regular meatloaf. The pinto beans become smooth and creamy, while the chickpeas tend to keep some of their shape. Try experimenting with other types of beans to find your perfect combo.
Serves 4-6
Ingredients:
For the Glaze:
1/2 cup ketchup
2 tablespoons molasses
1 teaspoon chili powder
2 tablespoons mustard
1/4 cup water
For the meatloaf:
1 cup oats
1 small onion, diced
1/2 large green pepper, diced
2 cloves garlic
1/2 cup sunflower kernels
1 can chickpeas, drained and rinsed
1 can pinto beans, drained and rinsed
2 tablespoons chili powder
2 tablespoons vegan Worcestershire sauce
Salt and pepper, to taste
Directions:
Preheat oven to 375°.
In a small bowl, whisk together all glaze ingredients. Set aside.
In a food processor, pulse the oats until chopped well, but not into a powder.
Add onion, green pepper, garlic and sunflower kernels and pulse again until well combined.
Add in chickpeas, pinto beans, chili powder, Worcestershire, salt and pepper. Pulse until beans are almost nearly pureed. Leave a little bit of texture.
Spoon bean mixture into a greased loaf pan and even out.
Pour glaze over bean mixture.
Bake for 30-35 minutes or until glaze is caramelized and loaf is solid.
What are your favorite toppings for a meatloaf sandwich?
I like to go simple and just put on a whole crapton of mustard. Yum!
Running is one of the few sports out there that can be almost completely free. Chances are, you have a pair of tennis shoes in your closet and some workout clothes in your dresser. Really, those things are all you need to get out there and run (and you can always run barefoot and naked, if you don't mind getting arrested). Of course, once you get into running, it becomes pretty obvious just how far you can travel from the days of just lacing up your free sneakers. Race fees, custom-fitted shoes, special socks, GPS watches…it starts to add up fast.  Running can very quickly transform from a free hobby to a very pricey passion. Over the past few weeks, I've definitely caught the running bug again (the cooler weather is definitely the catalyst) and with my renewed desire to run comes a new desire to buy fun running gear! Here's what I'm jonesin' for:
Is your sport of choice an expensive one?
Welcome back, WIAW! After documenting my daily eats for the past week thanks to the elimination diet, I was definitely glad to get a few days off from the camera. But we're back again today with my eats from yesterday.
I labeled this week's WIAW "in the groove" because I feel like we've definitely hit our stride with elimination land. We've made some decisions on what we can and can't be flexible on and are eating lots of yum foods. Honestly, I'm actually a little sad that this elimination portion is coming to a close soon. I feel like we are just finding our groove.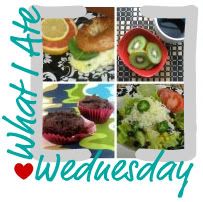 Breakfast
It is officially too dark in the mornings when I get to work to take a photo without added light. So this is my breakfast under the fantastic fluorescent desk light I have.  Smoothie (blueberries, banana, almond milk, pineapple juice, flax seed, chia seeds) and a brown rice cake with almond butter, chia seeds and a smidge of chocolate chips. Because chocolate is a breakfast staple, haven't ya heard?
Lunch
Ahh, much better lighting by lunchtime. Had a big "bowl" of brown rice pasta with some roasted red pepper pesto. A small side salad (greens, scallions and tomatoes that I picked from our garden by flashlight in the morning) and some raspberries. Plus a banana no bake for dessert. Chocolate is also a lunch staple.
Snack
Sometimes, when I take my lunch out of my lunch bag, I go ahead and take out my afternoon snack and set it beside my computer. When I do that, I notice I eat my snack a lot earlier in the day compared to the days when it stays hidden. I guess the visual cue of having food available makes my mind say, "I HUNGEE." Snack (that incidentally, stayed in my lunch box until 4pm) was hummus with bell pepper strips and an apple. Still waiting for the Honeycrisps to show up in the store. So yum! Once I got home, I had a few bites of a meatless meatloaf sandwich, but handed the majority of it off to the Babyface.
Dinner
I started off dinner by eating about a million handfuls of mini chocolate chips while I was cooking. Apparently I'm in chocolate overdrive today? After my appetizer of chocolate, we had lentil sloppy joes on gluten-free bread with a whole giant side bowl of kale chips. Plus an unpictured banana no bake for dessert. Chocolate at all three meals! Do I win some kind of award?
Maybe I'll try to cut back a little on the chocolate for next week. Or not.
---
What's the best thing you ate yesterday?
Hmmm, I'd have to say the hummus. I cannot get over how smooth and fluffy chickpea flour makes hummus. YUM!