Posts made in October 12th, 2011
I think mashed potatoes are the sad, forgotten dish of the Thanksgiving table. They are usually somewhere in the spread, but very few people sing the potato praises when the meal is finished.
That's sad. Potatoes be good, yo. Especially when you amp up the flavor with buttery, mild and nutty roasted garlic. No need for gravy with these taters, the flavor and texture is spot on without any additions.
If you've never roasted a head of garlic before, it might be one of those kitchen tasks that seem scary, but I promise it's as easy as can be. When shopping for the heads of garlic you are going to roast, look for flat bottoms so they lay flat in the pan. Remember, roasted garlic is much, much milder than raw garlic. For a fun treat, spread a clove or two of roasted garlic on a piece of buttered toast. So good!
Roasted Garlic Mashed Potatoes
I'm a pretty lazy cook and rarely peel my potatoes before mashing them. The peels add a ton of fiber and nutrients. But if you like the smooth and creamy texture of peel-less mashed potatoes, go ahead and peel.
Serves 6-8
Ingredients:
3 heads of garlic
1 tablespoon olive oil
2 pounds potatoes, washed and cut into chunks
1/2 stick butter
4 ounces cream cheese
1/4 cup half and half cream
Salt and pepper
Directions:
Preheat oven to 375°.
Using a sharp knife, cut off the top of the heads of garlic. Discard tops.
Place heads of garlic in a pie pan, drizzle with olive oil and sprinkle with salt and pepper. Cover pie pan with aluminum foil and bake in oven for 25-30 minutes or until garlic is soft and creamy. Remove from oven and let cool.
In a large pot of water, boil potato chunks until soft and tender.
Drain potatoes and add back into pot. Mash until steam is released.
Add in butter, cream cheese, and half and half. Mash until smooth and well incorporated.
Squeeze in the roasted cloves of garlic from the heads (yes, all three). Mash until well incorporated.
Salt and pepper the potatoes to taste.
Do you like your mashed potatoes with brown gravy, white gravy or gravy-free?
You know how sometimes I'll post my WIAW post and you all will be like, "Wow! You eat so cleanly!" and tell me how much you admire my resolve?
Yesterday was not one of those days.
Because WIAW fell on Babyface's birthday. Which meant no vegetables or chia seeds in sight. That is part of what I love about WIAW. I know a lot of people "use" it to show how disciplined they are, but I love that it shows just a normal day of eating—the good ones and the not-so-good ones.
I believe a healthy lifestyle is a whole lot less about eating broccoli for dinner every night and a whole lot more about finding a balance between the mental, emotional, and physical benefits and consequences of eating certain foods. Yesterday, Babyface and I were at an indoor water park/hotel all day. Could we have packed healthy food? Probably. But you know what? It was fun to order pizza and eat chips. So we did! And that, I think, is healthy.
Oh, and of note, when I do have days like this, I always make sure to up my water intake. It helps balance out the sodium overload so I don't feel crappy for days afterward. Onto the eats! And I promise, I'll be back with a non-cameraphone post later.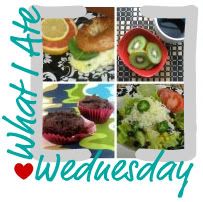 We hit the road in the morning and make a breakfast stop at Starbucks. I ordered a PSL (of course) and oatmeal with all the toppings. Then Babyface's breakfast sandwiches (2) came and smelled so good I couldn't help but take a few bites. Mmmm.
We worked up quite the appetite in the water park for a few hours and came out to the little concession stand in dire need of hot dogs. The stand was out of hot dogs (really?) and so we went with cheeseburgers with lemonade instead.
After a little bit longer in the park, we headed back to the hotel for a beer, some chips and queso and a nap. Beer=the best pre-nap drink ever. So sleepy and cozy.
After a few more hours on the slides (for him) and the lazy river/hot tub (for me) we came back to he room and chilled in front of a Law and Order SVU marathon while drinking more. Because we are crazy rockstars like that.
After three episodes of SVU, we ordered pizza. We got this trip on a Groupon and it was a pretty good deal. $120 for a night in the hotel, access to the water park, breakfast and a pizza dinner. Incredibly, the pizza was pretty good, too.  Especially when paired with lambics (we had both cherry and raspberry).
Interestingly enough, even though Babyface and I haven't been drinking for almost a month, all of this alcohol didn't really effect either of us. I'm such a lightweight, but I barely felt buzzed at all. Must of have been all the sodium, carbs and saturated fat from my eats.
And now, I'm off to go find something green to eat and slam a liter of water.
---
What's the best thing you ate yesterday?
The cherry lambic. SO good. Highly recommended if you are a fan of fruity beers or hard ciders.