Posts made in October 26th, 2011
Alright, it looks like we are back in action here on BTHR. Sorry for the daylong outage if you experienced it. The folks at BlueHost graciously gave me a new IP address so AT&T wouldn't blacklist me anymore. Welcome back! Let's eat some food.
Who else remembers those little 59 cent Banquet chicken pot pies that you would get from the frozen foods section? I'm sure they're still around, but to me, those little suckers scream, "child of the 90s". They were so salty and the vegetables were pure mush. And the sauce was so hyped up on chemicals that it almost had a rubbery consistency. My brother and I used to live on them during summer vacation from school. Between that, ramen noodles and Dinty Moore beef stew, we pretty much had a monopoly on the MSG consumption of Southern Indiana.
So these? These are not those pot pies. These are homemade. And creamy. And full of veggies. Oh, and easy! The veggies are cooked in the base for the gravy and the crust is just a simple store-bought puff pastry sheet.
I chose to make these guys into true pot pies and bake them off in soup mugs, but feel free to bake this in a baking dish. Although, you have to admit, the little personal-sized mugs are super adorable. Especially for a dinner party. If you do things like that.
I'd say that chicken pot pie is high up on my all-time favorite comfort foods list. In it is everything that is good about the world. Colorful veggies, plump chicken, flavorful gravy and a flaky, buttery crust to help tie it all together. Unfortunately, a traditional pot pie is also way high up on the not-so-good-for-you scale. The gravy is often made with cream and a small truckload of butter. For this recipe, I lightened up the filling by using fat-free milk and broth as the base.
I went the traditional route with the veggies here, but feel free to experiment with whatever you like. Pot pies are incredibly adaptable. Make this vegetarian. Make it with seafood (lobster pot pie? yum!). Make it with more sweet potatoes. Make it without carrots. Whatever floats your boat.
Print this recipe
Lightened Up Chicken Pot Pie
Adapted from Cooking Light
The crust situation on a pot pie seems to vary widely depending on your region. Feel free to tweak the recipe accordingly to make room for your favorite crust-type. I quite like the puff pastry because it is simple and the results are impressive. Other good options include pie crust, biscuits, phyllo dough and crescent rolls.
Serves eight
Ingredients:
2-1/2 cups chicken broth
1 large potato, peeled and cubed
1 small sweet potato, peeled and cubed
1-10 ounce bag of frozen mixed vegetables
1 large onion, diced
8 ounces button mushrooms, sliced
1/2 cup all-purpose flour
1-1/2 cup skim or lowfat milk
Salt and pepper, to taste
1 bay leaf
1/2 teaspoon dried thyme
1/2 teaspoon dried rosemary
2 cups cooked chopped chicken
1 sheet of frozen puff pastry, defrosted
Directions:
Preheat oven to 400°.
In a large saucepan, bring the broth to a boil. Add in potato, sweet potato, mixed vegetables and onion. Cook for 8-10 minutes or until potato is fork tender.
In the last 2 minutes of cooking, add in mushroom slices. Remove from heat.
Using a slotted spoon, remove vegetables from broth and set aside.
In a large bowl, combine flour and milk and whisk until well-incorporated.
Return broth pan to medium heat and whisk milk mixture into the broth.
Add salt, pepper, bay, thyme and rosemary.
Bring broth and milk mixture to a simmer and cook, stirring constantly, until thickened, about 8 minutes.
Remove bay leaf, and combine milk mixture with the cooked vegetables and cooked chicken. Stirring to coat.
Spoon filling mixture into a square baking dish or individual 10-12 ounce ramekins.
Top with sheet of puff pastry, pressing to seal dough to dish edge. Cut slits in top of sheet to let steam escape.
Bake for 18-20 minutes, or until puff pastry is golden brown and filling is bubbly.
Let rest for 10 minutes before serving.
Did you ever eat those little frozen pot pies?
Blogs are funny animals.
You start off all innocent like. You set up an easy-to-create free account on some blogging website and within just a few minutes you are off to the races rambling about kittens or baseball or whatever your bag is. And then, one day, you realize the free route just isn't going to cut it anymore. You want pretty layouts and freedom and monetization. So you decide to become self-hosted. And then shit gets real. What suddenly took just a few hours to administer every week is now full of an insane amount of acronyms (PHP, DNS, CSS, HTML, SOL, FUBAR, MF). And suddenly, this thing that started so you could uh…write…now requires an obscene amount of knowledge about other non-writing topics just so you can do said writing.
It's kinda like going to the hospital to volunteer to clean the bed pans and then finding yourself doing brain surgery and having no freaking idea what you are doing.
This is me raging.
Anyway, as you can probably guess, my yesterday evening was full of me going full on rage blackout with customer service reps. Which didn't get me anywhere. So, sorry if you are on one of the ISPs that currently can't seem to load BTHR (which probably means you can't read this apology anyway). Our home computer can't connect either. Anyway, onto yesterday's eat, because that's why you came isn't it?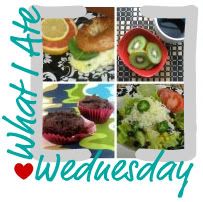 Breakfast was a nice big bowl of chocolate overnight oats, topped with Nutella and a banana. My love for overnight oats is pretty remarkable. Although they are going to need to be retired soon thanks to the weather.
Lunch was leftover chicken pot pie (recipe coming this week, SO good), some Chobani, an apple and a square of chocolate.
For an afternoon snack, I had some grapes and some cheddar. I came to the realization today that I don't think I like grapes. Unless they are perfectly ripe and crisp. Mushy grapes are the worst.
My after-school snack was a big glass of apple cider and what I've been lovingly calling "brain cookies". Caramel applesauce cookies. But they look like brains. Perfect for Halloween!
Dinner was some roasted broccoli plus a few small fillets of Parmesan-Crusted Tilapia. This recipe was incredibly good! Babyface said it was so good that it "didn't even taste like fish" Which I guess is a compliment? Considering he scarfed it down, I'd say so.
And then the problems started happening. And I started drinking.
And eating chocolate.
After being talked off the ledge by a web guru/friend from high school (thanks, Joe!) I decided to employ the "wait and see" approach to my web problems. As of this morning, things are still touch and go, but here's hoping it resolves itself soon.
Thanks for bearing with me while I tumble aimlessly through this world of internet-y things.
What was the best thing you ate yesterday?
Tie. Between the overnight oats and the tilapia. Yum!