what i ate wednesday: drive me to drinkin'
Blogs are funny animals.
You start off all innocent like. You set up an easy-to-create free account on some blogging website and within just a few minutes you are off to the races rambling about kittens or baseball or whatever your bag is. And then, one day, you realize the free route just isn't going to cut it anymore. You want pretty layouts and freedom and monetization. So you decide to become self-hosted. And then shit gets real. What suddenly took just a few hours to administer every week is now full of an insane amount of acronyms (PHP, DNS, CSS, HTML, SOL, FUBAR, MF). And suddenly, this thing that started so you could uh…write…now requires an obscene amount of knowledge about other non-writing topics just so you can do said writing.
It's kinda like going to the hospital to volunteer to clean the bed pans and then finding yourself doing brain surgery and having no freaking idea what you are doing.
This is me raging.
Anyway, as you can probably guess, my yesterday evening was full of me going full on rage blackout with customer service reps. Which didn't get me anywhere. So, sorry if you are on one of the ISPs that currently can't seem to load BTHR (which probably means you can't read this apology anyway). Our home computer can't connect either. Anyway, onto yesterday's eat, because that's why you came isn't it?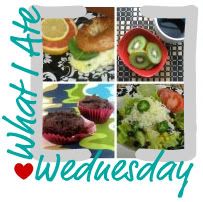 Breakfast was a nice big bowl of chocolate overnight oats, topped with Nutella and a banana. My love for overnight oats is pretty remarkable. Although they are going to need to be retired soon thanks to the weather.
Lunch was leftover chicken pot pie (recipe coming this week, SO good), some Chobani, an apple and a square of chocolate.
For an afternoon snack, I had some grapes and some cheddar. I came to the realization today that I don't think I like grapes. Unless they are perfectly ripe and crisp. Mushy grapes are the worst.
My after-school snack was a big glass of apple cider and what I've been lovingly calling "brain cookies". Caramel applesauce cookies. But they look like brains. Perfect for Halloween!
Dinner was some roasted broccoli plus a few small fillets of Parmesan-Crusted Tilapia. This recipe was incredibly good! Babyface said it was so good that it "didn't even taste like fish" Which I guess is a compliment? Considering he scarfed it down, I'd say so.
And then the problems started happening. And I started drinking.
And eating chocolate.
After being talked off the ledge by a web guru/friend from high school (thanks, Joe!) I decided to employ the "wait and see" approach to my web problems. As of this morning, things are still touch and go, but here's hoping it resolves itself soon.
Thanks for bearing with me while I tumble aimlessly through this world of internet-y things.
What was the best thing you ate yesterday?
Tie. Between the overnight oats and the tilapia. Yum!
Like this post? Check these out: