Posts made in November, 2011
I spent the past two days at a marketing conference in Indianapolis (hence the lack of posts). It is always fun to get out of the office for a bit, but I'm happy to be back into my routine today. The food at conferences is always a little…iffy. Honestly, I should have just packed my own food and gone that direction, but the lure of free food was just too strong to pass up. It's not even that I feel "guilty" or "bad" about eating what they provide, it's that my body does not react well at all. By the afternoon on both days I had no energy and had a terrible headache. Food is so powerful. I just watched the documentary Forks Over Knives, and while I'm still not convinced a vegan diet is the way to go, it definitely made me consider and be aware of the massive number of animal products in my diet everyday. And yesterday's food was no exception, especially when the free food came 'round. I need to remember this saying: free food is rarely good food.
Beyond that, I really need to watch my sugar intake. I feel like when I was doing the elimination diet, I was in a good place with sugar, but somehow it seems to have crept back into my diet with a vengeance. I'm never going to give up all sweets, but there is no reason for me to be eating processed sugar so many times in a day. Sometimes we learn things from WIAW.
Onto the (free) eats…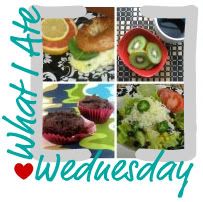 I don't do coffee at 5am, but I do do a green monster! Soy milk (it was on clearance, usually I'm an almond milk girl), spinach, protein powder, chia seeds, clementines, and a few ice cubes. I love the citrus-y flavor in green monsters, but using actual citrus fruit is not the way to go. The fibers in the clementines did not blend up. Chewy=not good. I'll stick to orange juice to add that flavor next time.
Once we got to the conference at around 9:30am, I dug into some of the free continental breakfast. Chocolate croissant, fruit and a mug of tea. I brought my own echinancea tea bag. There are lots of sick people around and I'm trying by best to keep that away.
Can you tell that what we had for lunch? It was supposed to be vegetable lasagna, but it was more like a few noodles, a few carrot pieces and 45 cups of cheese sauce. It sat in my stomach like a rock the rest of the afternoon. Plus a small amount of Caesar salad on the side (more cheese) and two yummy chocolate chip cookies.
Apple on the bus ride home from the conference around 5pm. Love apples, but I've found they just tend to make me hungrier unless I pair them with a food that has a little bit of fat and protein.
Once home, I whipped up a pot of Zuppa Toscana for dinner. Plus a few garlic toasts on the side. It was wintery mixing outside and I was freezing, so this warm bowl of soup while snuggling up to Babyface was just what the doctor ordered.
For dessert, we heated up the last of the sweet potato casserole leftovers from Thanksgiving and topped it with a few nuts and some chocolate and butterscotch chips. Again with the sugar…
---
What was the best thing you ate yesterday?
The zuppa toscana, definitely. Homemade food always wins.
I can officially say that now that we are post-American Thanksgiving. It feels so good to come out of the Christmas closet and share my holiday spirit with everyone. Normally I start with the Christmas music and decorations sometime in October, but this year I vowed to hold out until after Thanksgiving. There is something nice about embracing the holidays one at a time and I think my resolve helped make Thanksgiving more special. But now? We're in full on Christmas mode. The lights are on the tree, the stockings are hung on the mantel bookshelf, and I am so excited to be posting my first holiday recipe of the season. And it's a good one. Full of caffeine and alcohol and everything that is delicious about the holiday season.
A few years ago, my sister turned me onto the perfect combo of amaretto liqueur and eggnog. I know the typical eggnog spirit of choice is rum, but I find that the amaretto mixes in much more seamlessly. I tend to shy away from drinks that taste boozy and I think the flavor of amaretto blends so perfectly with the 'nog that it doesn't taste boozy at all. Instead, it just tastes deliciously warm. Which is exactly what you want out of a holiday beverage. Go ahead, put a shot of amaretto in your next glass of eggnog. You will not regret it.
Once you've had the amaretto/eggnog drink straight up, then you can move onto this latte. This dessert coffee would be a perfect adult drink while trimming the tree and listening to the She & Him Christmas album (highly recommended). Or, if you are feeling particularly cozy and decadent, a great way to celebrate on Christmas morning.
It's Christmas, no one cares if you drink at 8am.

This is definitely not a low-calorie drink option. If you want to lighten it up, try to search out lowfat eggnog as opposed to the usual full-fat kind. Also, make sure to check the sugar content of your eggnog. I chose to add a touch of sugar to the latte, but if your 'nog is particularly sweet, you might be able to skip the sugar all together.
Amaretto Spiked Eggnog Latte
Prep Time: 5 minutes
Cook Time: 2 minutes
Makes: 1 large latte
Nowadays, there are a lot of great dairy-free "egg" nog options out there. Check your grocer's dairy case for the soy milk or coconut milk options to make this into a vegan drink.
Ingredients
1 cup eggnog
1 cup strongly-brewed, hot coffee (4 tablespoons coffee to 1 cup water)
1/2 tablespoon sugar
1/8 teaspoon nutmeg
1/4 teaspoon cinnamon
1 ounce amaretto liqueur
Nutmeg for garnish (optional)
Whipped cream for garnish (optional)
Instructions
In a small saucepan, heat the eggnog until very warm, but not boiling. Remove from heat and froth by either using a frother, blending with an immersion blender, or transferring to a Mason jar with lid and shaking vigorously. Set aside.
Combine coffee, sugar, nutmeg and cinnamon in a bowl and whisk together until well mixed.
Pour amaretto into a large mug, add in coffee and mix. Pour hot eggnog over top. Spoon eggnog foam on top. Top with a dollop of whipped cream and sprinkle with more nutmeg for garnish, if using.
What is your go to holiday drink?
Thank you all so much for all of your congratulations on my All About the Numbers challenge recap. It means a lot to me that you are all out there keeping me accountable. For the first time in years (maybe even in a lifetime) I feel like I'm on very solid fitness ground going into the Christmas season. Fitness is an integral part of my plan for the season, and I'm determined for it to not fall away when my schedule gets packed.
This week's fitness victories and thoughts:
I have a line where my abs are. As in, you can actually see them peeking out under my layer of fluff. It never even occurred to me that defined abs would be in the realm of possibility for a 200+ pound woman. But the line is there. I showed Babyface yesterday and he said, "Wow. I don't even have that line." I am ridiculously excited about this surprise discovery. Planks work, kids.
We had a really active and fun Thanksgiving day. There were planks, Superman pushups, chair sits and a rousing game of baseball. Long gone are the days where we are just gluttonous and lazy. Now we are gluttonous and active! It is so nice to have a family that is up for activity.
I ran sprints on the treadmill this Saturday for no other reason than I wanted to run fast and get sweaty. It's the first time I've craved running in a very long time. I've been thinking about "breaking up" with running for months now, but I'm starting to feel like it isn't running that's the problem, it's my mindset around it. I don't need to run marathons to be a runner. And I don't need to be a runner to run. I need to stop putting myself into fitness boxes. If I want to run, I'll run. If I don't want to, I won't. Ain't no thang.
I did two sets of 10 perfect modified pushups on Saturday. I am so close to a regular pushup I can taste it. The day that happens will be one of much pomp and circumstance.
Getting stronger is so much more fun than losing weight. Not that they are mutually exclusive, but I'm having so much more fun watching my lifts get heavier than I did watching the scale go lower.
This week's workouts:
Sunday (11/20)
Monday (11/21)
Tuesday (11/22)
Wednesday (11/23)
4.5 miles walking
11 miles biking
Thursday (11/14)
Family baseball and other activities
Saturday (11/27)
PPC (Planks, Pushup, and Chairsits)
Kettlebells (20 min)
HIIT on Elliptical (20 min)
Sprints on Treadmill (20 min)
2 miles walking
What was your best workout of the week?
Considering how sore I am today, yesterday's gym session definitely takes the cake.
For those of you celebrating, I hope you had a fantastic Thanksgiving! Mine was wonderful, but with all the hub-bub of the holiday, I forgot to share with you guys my results from the All About the Numbers Challenge. Before I dig into the results, let's recap the goals of the challenge.
Forty days ago, I set out to give myself a momentum boost heading into the holidays. Not only was I afraid of falling into the typical holiday health slump, but I was also feeling pretty down about the "big" number in my life—the one on the scale. So for forty days, I decided to focus on 10 goals that weren't weight related. The goals were to:
Complete 2000 fitness minutes
Do a 2 minute plank
Do a 1 minute chair sit
Run or walk a total of 100 miles
Stationary bike a total of 100 miles
Drink 4000 ounces of water
Track my food for 30 days
Eat 200 servings of fruits and veggies
Go 40 days without stepping on a scale
Write and post 30 Operation Beautiful notes
If I achieved all of those goals, I got one big, amazing prize: $200 at the Under Armour outlet for new workout gear. Now that is some motivation!
So how'd I do?
Spoiler alert: I checked off each and every one of those ten goals! And here are my Under Armour bags to prove it:
I honestly thought there was no way in hell I was going to achieve all of those things in 40 days. The first few weeks, I slacked off horribly, but something clicked in week four and I was off to the races. I walked until my feet were covered in blisters. I drank water like it was my job. And I carried no less that four different pads of sticky notes in my purse. I am so proud of myself for seeing this one through. Want to hear more about each goal? No? Too bad, I'm going into detail anyway.
Complete 2000 fitness minutes.
Original Goal: 2000 minutes
Final Total: 2544 minutes
Highest Week: 739 minutes (Week 6)
This one was pretty simple. With all the walking and biking I was doing, the 2000+ minutes came easy. Honestly, I didn't even have to think about this.
Do a 2 minute plank.
Original Goal: 2 minutes
Final Time: 2 minutes
Highest Week: 2 minutes (Week 4)
Do a 1 minute chair sit.
Original Goal: 1 minute
Final Time: 1 minute
Highest Week: 1 minute (Week 4)
I think hitting these two goals early on was part of what sparked me to finish this challenge out right. I was so excited about these!
Run or walk a total of 100 miles.
Original Goal: 100 miles
Final Mileage: 100.18 miles
Highest Week: 33.31 miles (Week 6)
When I made this goal originally, it seemed reasonable because I had planned on running at least a quarter of the miles. But it turned out that walking was a ton easier to fit in my schedule (as in, I can walk 2 miles at lunch and not need a shower, not true with running). So this turned into a 100% walking goal. I'm pretty excited about that number.
Stationary bike a total of 100 miles
Original Goal: 100 miles
Final Mileage: 100.41 miles
Highest Week: 33.01 miles (Week 4)
We have a stationary bike at home, so this one came pretty easily. I'd just set myself up with some TV show on the iPad and pedal away. I also found it really nice to have an option other than walking/running or going to the gym. If I wasn't feeling working out, I'd at least convince myself to come home and hop on the bike for 20 minutes. That is the kind of habit and compromise that'll help get me through the holidays healthfully.
Drink 4000 ounces of water.
Original Goal: 4000 ounces
Final Total: 4184 ounces
Highest Week: 768 ounces (Week 6)
The thing I hated the most about this? Keeping track of my water! I drink water all day mindlessly, so it was really difficult for me to be aware of how much I was drinking. I'm happy to be back to not tracking water intake.
Track my food for 30 days.
Original Goal: 30 days
Final Total: 30 days
Highest Week: 7 days (Week 2)
I hate tracking my food. It is so tedious and annoying. But it help keeps me so much more aware of what is going into my body. I wasn't restricting at all (or even really looking at the calorie numbers) but just knowing what was going in my body helps keep my much more accountable.
Eat 200 servings of fruits and vegetables.
Original Goal: 200 servings
Final Total: 200 servings
Highest Week: 41 servings (Week 6)
I thought this one was going to be easy as can be, but I apparently eat a lot less fruits and veggies than I thought I did. I think it has to do with the time of year. In the summer, I'm always picking tomatoes out of our garden or eating watermelon from the farmer's market. The fall and winter can be hard for hitting your freggie levels. Lots of veggie-packed soups help me hit the 200.
Go 40 days without stepping on a scale
Original Goal: 40 days
Final Total: 40 days
Highest Week: All of 'em (I didn't pull the scale out once)
I'm really loving not having a scale. It might stay away permanently.
Original Goal: 30 notes
Final Total: 32 notes
Highest Week: 16 notes (Week 7)
This was hands-down the hardest of all the ten goals. Mostly because I go to the exact same places all the time! Home, work, gym, library, repeat. It's hard to leave fun anonymous notes when you are in the same places all the time. Finally, on the last day, I went on a note binge in Walmart. Which was fun and I hope some Black Friday shoppers got a kick out of them. Ready for all the notes?
I have to say, I'm beaming with pride over the completion of this challenge. None of the goals were particularly hard, but I felt the kind of commitment to finishing that I haven't seen in a very, very long time. It felt so good to be dedicated to something again. All-in-all, a successful challenge! Now to come up with my next one…
If you had $200 to spend on workout gear, what would you buy?
We hit the UA Outlet Black Friday sale and I definitely scored some great deals for my $200. I left with a new pair of pants, a new sports bra, two tanks, three tees, a hoodie, a long-sleeve tee, twelve pairs of socks, plus a "free" $60 UA gift card.  I can definitely see the appeal of Black Friday sales. Especially considering the UA outlet wasn't very busy at all. No different than a normal Saturday. Me likey.