Posts made in November 16th, 2011
Oh em gee, guys.
I'm not sure what happened to my brain this week but it has gone totally AWOL, MIA and any other military acronyms that are fitting. I spaced writing my Anytime Health post for this week (which is very unlike me). I had at least three different recipes lined up for this week that all failed miserably because of my mistakes. And I got all the way to lunch yesterday before I remember it was Tuesday and I was supposed to be taking WIAW photos. I certainly hope my brain returns soon because cleaning up all my brainless messes is getting annoying.
Anyway, here is a true What I Ate Wednesday. Here's hoping I'll be back soon with my brain and some good food for you guys.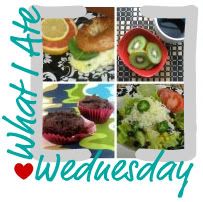 Breakfast
Green monster made with almond milk, kale, banana and pumpkin puree. Cold and flu season is starting up and I really want to feed my immune system well. So that means the return of the green smoothie. More green leafy veggies are never a bad thing.  I need to remember that a green monster does not a filling breakfast make. Next time I'll pair it with something with some protein or add some protein in the mix (yogurt, nut butters, etc.)
Snack
A few Applegate pepperoni slices (so good!) with some raw cheddar and a whole baggie of red pepper slices. I remembered to take the photo as I was eating my last few bites. Better than nothing, eh?
Lunch
Lunch was high-volume, but reasonable calories, which I love. Carrot sticks, homemade leek and potato soup (not blog ready, but delicious) and some yogurt with frozen blueberries. Plus one of these Dove dark chocolate almond promises which I'm loving. They are so delicious.
In case you were wondering what my "fortune" was…
Tea time
Last winter, I was downing the lemon and ginger tea combo like it was my job to keep keep away colds. I totally forgot about it until Caitlin posted something about it helping with her pregnancy nausea. I don't have morning sickness, but I do have a definitely love of staying healthy. And lemon and ginger are always a great combo for health.
I poured mine into a thermos so the 'faces and I could do a walk. Somebody needs a nice travel mug (hint, hint).
Dinner
We've had two blocks of tofu in our fridge for a while now. We try to avoid soy, and so I rarely buy tofu, but these suckers showed up in our last CSA box of the season. I pressed the tofu slices, marinated them in BBQ sauce for about a half an hour and then shoved them under the broiler until brown and yum. Served up with some steamed broccoli and quinoa. I look at this meal and think, "Wow, how healthy living blogger of me." So not the typical Johnston household dinner, but delicious nonetheless.
Dessert
I had a serious hankering for something gooey, decadent and chocolatey after all that "health food" that made up dinner. One Nutella Chocolate Cake, coming right up!
What was the best thing you ate today?
The Nutella cake always wins. ALWAYS.