Radishes and I have an interesting history. I've never loved radishes. But I have always loved picking radishes. They were absolutely my favorite veggie to harvest when I was a kid. There is something insanely satisfying about pulling on those prickly, green tops and a scarlet red bulb (or long root in the case of the Cincinnati Market variety we're growing this year) pops up and is just so beautiful and vibrant and exhilarating!
As a kid, I would pick radish after radish, but never eat them. They were just too spicy and too pungent for me. Even though that bias extended into adulthood, I've since learned to tolerate radishes. Especially when thinly sliced so I don't have to bite into a huge chunk of the crisp spiciness.
Now that we're growing our own radishes, I've found that I'm loving rediscovering this veggie that I'd previously put only in the "salad" box. We're growing two varieties—Early Scarlet Globe and Cincinnati Market—and they are some of the sweetest and most mild radishes I've ever eaten. They have such a nice, delicate flavor compared to the radishes I've had from the store (or the ones from my childhood). I think I might like radishes?
One of my favorite discoveries on my journey to radish love—you can eat the greens! For years, I've been tossing radishes greens in the compost, but it turns out, they are a flavorful, nutritious, tender green that you can use just like kale, spinach or chard. I expected the greens to have that spicy bite that radishes have, but the greens are mild and earthy. I think, if anything, they taste like a more mild spinach. They work beautifully as a base for other flavors (like, uh, butter and garlic, see below), and if you're so inclined, they pair nicely with the spicier, more flavorful radish bulb.
I'm always a fan of figuring out a way to get more food out of the same plant, so I'm pretty giddy that I can eat the entire radish plant. Radishes are so insanely easy to grow and, from seed to harvest, are one of the quickest veggies in the garden. We planted our radish seeds about six weeks ago and we have more full-grown radishes right now that we know what to do with.
We've been eating our radish bulbs raw in a lot of salad (and in another radish-y recipe I have coming your way soon), but I've been stashing the greens in a baggie in the fridge until I had enough to make these toasts. We love eating veggie toasts like this—they are the perfect light lunch and super tasty and healthy.
If you don't have access to a never-ending source of radish greens like I do, you can easily sub in your favorite dark, leafy green. I think this would be incredible with chard (and the rainbow stems would look especially beautiful). Ever had Brussels sprout greens?  They are rockin' and would be delicious with these meaty portabellas and creamy goat cheese. If you feeling particularly decadent, you could put a runny egg on top of these and eat them with a knife and fork. Yum!
I hope I've convinced you to not toss your radish tops in the compost the next time you pick up a batch from the store or farmer's market. Enjoy!
Portabella and Radish Green Toasts with Goat Cheese
Prep Time: 5 minutes | Cook Time: 15 minutes | Makes: 2 servings
Ingredients
1 tablespoon butter
1 tablespoon olive oil
2 cloves garlic, minced
2 portabella caps, sliced thinly
2 cups radish greens, chopped
Salt and pepper, to taste
2 slices whole wheat bread
1/2 cup crumbled goat cheese
Instructions
Preheat the broiler.
In a large skillet over medium heat, melt the butter and the olive oil. Add in the garlic and cook until fragrant and tender, about three minutes. Add in the mushrooms and saute until soft, about 5 minutes. Add in the radish greens, salt and pepper and cook until greens are soft, about 5 more minutes.
Remove greens and mushrooms from heat and divide between the two slices of bread. Divide goat cheese in two and sprinkle on top of toasts. Place under broiler and broil until the cheese is melted and slightly brown—about two minutes.
Nutritional Info
Serving Size: 1 toast | Servings Per Recipe: 2  
P.S. Sending a million hugs to all of this week's tornado victims. I've been through a tornado or two in my life, and I wouldn't wish it on my worst enemy. As sad as this week's storms have been, they serve as a great reminder of how important it is to make your family an emergency kit. Trust me, it can be both a figurative and literal lifesaver.
Have you ever eaten radish greens before? What's your favorite way to prepare them?
If you've been around here a while, you know that I'm a huge fan of self-imposed challenges. Being a goal-oriented, competitive person, making healthy living into a game (that I can win!) every now and again really seems to help keep me on track. In the past, I've done challenges to build healthy momentum going into the holiday season and help build up my strength after training for a half marathon. I'm not always 100% successful, but the challenge format always does always light a fire under my bum, and I'm a big fan of anything that gives me an extra dose of motivation.
With summer right around the corner, I figure now was a great time to set myself up with a challenge. Summer can be so full of commitments and obligations that I can really struggle with making sure to take care of myself during the warm weather months. This summer is going to be different! I'm going to challenge myself to turn the focus inward and make this the healthiest and happiest summer I've ever had. And, go figure, just in time for my big three-oh birthday!
Enter the Super Summer Challenge!
From June 1st to August 31st, I'll be focusing on me. In regards to this challenge, that means dividing my overall health into two distinct areas I'd like to work on: body and mind. For each of those two categories, I've made a list of dozens of tasks (plus a few that overlap). For completing each task on the list, I get points. The goal? Get 10,000 body and 10,000 mind points before Labor Day.
Some of the tasks are super simple and have low point rewards (like getting 10 points for doing a plank). Some will give me a lot bigger rewards, but they'll be little more difficult or time-consuming (like getting 500 points for taking a whole day off from social media). Since we're all individuals, you'll also have the option to make your own custom point lists to have a more customized challenge.
I created this challenge for me, myself and I, but, of course, I would love if you guys played along! And to make it even more enticing, I'm partnering with my good friend, and professional health and fitness coach, Coach Krissie of Committed Coaching to lend a hand! Yay!
For free, Krissie will be sharing her expertise in motivation, goal-setting, and self-reflection during the challenge. And, if you're looking for a little more umph!, Krissie will be offering extended coaching services for a fee that go hand-in-hand with the Super Summer Challenge. You can always participate in the challenge for free, but if you need the extra push of an adorable birdie with a Southern accent on your shoulder gently motivating you to be great, Krissie is your girl!
Krissie and I have a lot of fun plans to make this challenge great (like a peer-to-peer accountability partner system and lots of pretty, free printables). We'll be launching the challenge sign up this upcoming Thursday, May 23rd. Keep an eye out for that post with more information about the challenge guidelines, printable downloads, and how to sign up for accountability partners and Krissie's extended services.
Oh! And start thinking about what rewards you'll set for yourself throughout the process. Think big! This is a long challenge (all summer!) and if you're successful, you should reward yourself handsomely. I know I am! More on that later in the week.
Have an awesome Monday, friends!
Do you tend to get through summer healthfully? Or do you struggle like I do? Are you going to join us in the challenge?
1. Alba Dry Coconut Oil SPF 15.
We've been on the search for a more natural sunscreen and this one is our favorite so far. It's actually a tanning oil, which means it still lets you get a little bit of a summer glow, but the SPF 15 prevents the damage of a sunburn. It smells amazing. It goes on easy and light. And it lasts all day. Literally, all day. I can put it on an 8am and go work out in the garden until sundown without reapplying (granted, I don't burn easily, but still). It's not as natural as some of the sunscreen options out there, but it's the best option I've found so far, especially considering the low price.
2. Wet 'n' Wild Party of Five Glitters.
I'm sure I've mentioned this before, but this nail polish is my absolute favorite of all the bajillion glitter nail polishes I have in my stash. It's cheap (like $2 cheap), the colors go with everything. It goes on smooth. And my new favorite development? It's pretty much indestructible. Which means I can layer it over as a top coat and it keeps kicking even after a day out in the garden pulling weeds.
3. The Indianapolis 500.
If you've been around for a while, you know that I'm kinda obsessed with all things sports. I love a lot of sports—basketball, football, hockey, but my absolute favorite is IndyCar racing (yes, even above college basketball, but it's a close race). The Indianapolis 500 is like Christmas in May. Seriously. It's my favorite time of the year. I know a lot of folks don't get racing (and especially open wheel racing) but I love it. I love the speed. I love the science. I love the tradition. The Indy 500 is my jam. I've been streaming practice online all week-long. Love. Love. Love. We'll, of course, be at the race on Memorial Day weekend. I can't wait! Worth noting: running around the track at the 2/3 point of a half marathon is not nearly as fun as sitting in the stands, drinking beer and watching cars go around the track.
4. Sun Tea

Growing up, sun tea was something that you could almost always guarantee was brewing on our deck during the warm months. I love sun tea because (a) for some reason, it just totally tastes better than tea made without the sun and (b) it doesn't require electricity or gas to make, just our good friend Mr. Sunshine. I mix mine up in a Mason jar with a few fresh mint leaves and a splash of simple syrup. Yum!
5. Our Garden
You, of course, know that I love gardening, but in the past few weeks, I've really started to appreciate how awesome it is to be able to grow my own food. We've had gardens before (small ones at our apartment), but there is something about the scale and volume of having a 5000+ square foot garden now that really makes me appreciate it. Before, it didn't really impact our lives all that much. Sure, we got a few awesome tomatoes, but it didn't really change our buying or eating habits. But now? With this much food being pumped out? It's definitely changed our eating habits. It is so nice to be able to just walk out our door and pick pretty much any veggie I want for lunch (that is in season, of course). In related news, I'm pretty much living on a diet of salads because our salad fixings are so yummy! Fresh spinach and lettuce and green onions and radishes. YUM.
What are you digging right now?
Happy Friday, my friends! I don't have a lot to share with you today, because, let's be honest, I've been totally obsessing over all the action at the Indianapolis Motor Speedway this week that I've barely had time to think about food. Yes, I realize that watching grown men and women drive cars around in a circle for hours is not most people's idea of fun. And no, I won't bore you by trying to explain why it is the MOST AWESOME THING EVER IN THE HISTORY OF EVER EVER.
Anywho, I did want to pop in today because I've got some really fun news to share—I'll be speaking at the 2013 Healthy Living Summit!
Miss Gretchen Powell (of Honey, I Shrunk the Gretchen) twisted my arm honored me by asking if I'd be willing to serve on her panel this year, and I jumped at the chance to finally meet all my blog friends and hang out in the Twin Cities! I've actually been to Minneapolis about a million times, but never got past the airport. Whenever Craig and I were long distance and I'd fly up to visit him in Canada, I always had to catch a connecting flight at MSP. I am adequately acquainted with the mega-mall that is the airport, so I'm excited to get out and explore beyond those sprawling walls. Even better that I get to do it with a bunch of amazing, inspiring bloggers! Yay! Can you tell I'm giddy excited?
I'm even more excited to head to the Twin Cities because that means we're headed to the backyard of my good friends at Anytime Fitness. I've been working with the folks at AF for years now (I'm part of their blog team over at Anytime Health), and I'm excited to get to hang out with them again. They offered to sponsor me to head to HLS and I am so grateful to be representing them at the conference. I am an Anytime Fitness fan for life and can't wait to spread the purple pride to everyone at HLS!
If you were waffling about whether or not to go to the HLS this year, I urge you to take a look at the agenda! I'm totally geeking out over some of the talks that will be happening. Grow Your Own Food? Blogger Self-Care? Philanthropy and Blogging? It's like someone custom-made an agenda just for me and my interests. In case you're curious, Gretch, Lauren, Katie and I will be talking about how blogging helped snag us all our dream jobs (and no, not as full-time bloggers, because that's just not a realistic future for 99% of us). You are more than welcome to show up and mock my awkwardness. In fact, it's encouraged, especially if you bring me beer. You can make fun of me all you want if you come bearing libations.
Tickets for the HLS go on sale Wednesday, May 29th and always sell out in a flash, so make sure you mark your calendars/set an alarm/stake out the website. I can't wait to meet you all!
Now I'm going to go back to watching cars drive around in circles. BEST FRIDAY EVER.
Minneapolis skyline image: source
Anyone planning on heading to HLS this year? Have you ever been to a blogging conference before (I haven't!)?
Happy Wednesday, my friends!
Before we dig into this week's WIAW, I want to chat for a bit about intuitive eating. Intuitive eating is something I've never been good at. In fact, if I could venture a guess, I'd say that the vast majority of folks struggle with it. How could we not after decades of being assaulted by the messaging that we are not supposed to trust our food intuition? Don't eat this food that you like because it's bad. Do eat this food even though you don't like it because it's good. Order the salad instead of the pasta. Eat three meals a day. Eat seven meals a day. Don't eat at all. Eat 1200 calories. Eat 2000 calories. Go no carb. Go low carb.
Phew. It seems like there is always someone somewhere telling you what to do with your eating. And I'm personally so guilty of listening to them. And even worse, letting them drown out my own intuition.
It's one thing to collect and absorb information about nutrition from an outside source and then use that collection to inform your own decisions, but it's a whole other thing to take the word of others (professional or not) as gospel. I am so guilty of being a bandwagon eater. I tend to leap onto food trends like a spider monkey. Which is ridiculous, because the truth is, I know how to fuel my body. I know what makes me feel good and what doesn't. I know when I'm full and when I'm not. And I just need to trust that.
All this thinking about intuitive eating comes courtesy of Mr. Bob Harper. If you don't keep up with him, he recently put out a new book called Jumpstart to Skinny. I haven't read the book, but from what I can gather, it's a short-term program to help you either (or both) get ready from an upcoming event with quick weight loss, or help you jumpstart a longer-term weight loss. I know quite a few people who are enjoying the program and having great results (which is awesome).
Now, just from reading the descriptions and reviews, I get the feeling that this program isn't for me. There are some relatively extreme principles laid out in the book, and honestly, they just aren't my cup of tea. It's not that I think the program is bad or wrong, I just know it isn't a good fit for me. Honestly, the fact of the matter is, weight loss just isn't that important to me. If I could press a button and have 30 pounds fall off, would I? Heck yes. But I'm not going to completely flip upside down my life just to shed some LBs. Being skinnier is just not that high on my priority list. So, for me, Jumpstart to Skinny just isn't a good fit. The same may or may not be true for other people. I think that's for each person to decide.
That being said, it hasn't stopped my self-doubt from creeping in. Maybe Bob Harper is right. Maybe he knows more about this that I do. Maybe I should try and see if it works. Maybe I'm wrong. Maybe I'm eating all the wrong food. Maybe I'm not taking care of myself. Maybe he knows my body better than I do.
False. Nope. Wrong-o. No one knows my body better than I do, and I have to keep that in mind. Sure, Bob Harper may be an expert, and sure, some of his advice and principles may work in my world, but I have to be the final say in how I treat my body. And if something he is saying makes me uncomfortable (no matter how well it works for other folks), I have to trust that feeling. I have to trust my intuition. I have to trust that I know how to take care of my body. For the longest time, I couldn't count on that. I didn't know how to take care of my body. But now, I do. And I need to be confident and strong in that knowledge.
Who has two thumbs and is a work in progress? This girl.
Okay, really, that whole spiel had a whole lot of nothing to do with my WIAW eats this week. Ha! I just needed to word vomit some feelings I've been having. Anywho, onto the food before I bore you with some other ramblings…
Are there any other savory breakfast people in the house? I'm okay with waffles, pancakes, oatmeal, smoothies, etc., but my favorite breakfast is of the savory variety. I will always choose bacon and eggs over donuts. This time, I had two poached eggs over toast with a side of sliced apples. No bacon.
We had a rogue chilly day on Monday, and I refuse to turn the heat on in May, so I was freeeeezing by the time lunch came around. Soup was calling my name! I had a bowl of roasted red pepper and tomato soup (from a box) plus a grilled cheese and salad on the side. I ate my soup, salad and breadsticks grilled cheese out under the sun and felt much toastier.
Lunch dessert was a no-bake cookie! We hardly ever make these because Craig and I can polish off a whole batch in an afternoon (we looooveeee no bakes!) but I made a batch this past weekend and we're going on our 5th day of them still being around. Progress!
Dinner was done on the grill—tofu burgers with grilled peppers and onions, feta and mustard. On the side, I had a few grilled potato planks.
For dessert, Craig and I dug into the last two pieces of Light Triple Coconut Cream Pie leftover from Mother's Day. Holy wow, do I love that recipe.
As always, big thanks go out to Jenn at Peas and Crayons for hosting this fun food-filled party we have every week. If you guys haven't clicked over to the main WIAW post yet, you should! There are so many fun eats and so many new blogs to discover. You could lose a handful of hours just discovering new friends and foods!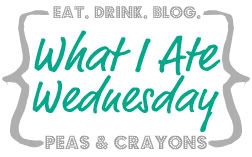 Are you good at trusting your intuition?