Happy Wednesday, my friends!
Before we dig into this week's WIAW, I want to chat for a bit about intuitive eating. Intuitive eating is something I've never been good at. In fact, if I could venture a guess, I'd say that the vast majority of folks struggle with it. How could we not after decades of being assaulted by the messaging that we are not supposed to trust our food intuition? Don't eat this food that you like because it's bad. Do eat this food even though you don't like it because it's good. Order the salad instead of the pasta. Eat three meals a day. Eat seven meals a day. Don't eat at all. Eat 1200 calories. Eat 2000 calories. Go no carb. Go low carb.
Phew. It seems like there is always someone somewhere telling you what to do with your eating. And I'm personally so guilty of listening to them. And even worse, letting them drown out my own intuition.
It's one thing to collect and absorb information about nutrition from an outside source and then use that collection to inform your own decisions, but it's a whole other thing to take the word of others (professional or not) as gospel. I am so guilty of being a bandwagon eater. I tend to leap onto food trends like a spider monkey. Which is ridiculous, because the truth is, I know how to fuel my body. I know what makes me feel good and what doesn't. I know when I'm full and when I'm not. And I just need to trust that.
All this thinking about intuitive eating comes courtesy of Mr. Bob Harper. If you don't keep up with him, he recently put out a new book called Jumpstart to Skinny. I haven't read the book, but from what I can gather, it's a short-term program to help you either (or both) get ready from an upcoming event with quick weight loss, or help you jumpstart a longer-term weight loss. I know quite a few people who are enjoying the program and having great results (which is awesome).
Now, just from reading the descriptions and reviews, I get the feeling that this program isn't for me. There are some relatively extreme principles laid out in the book, and honestly, they just aren't my cup of tea. It's not that I think the program is bad or wrong, I just know it isn't a good fit for me. Honestly, the fact of the matter is, weight loss just isn't that important to me. If I could press a button and have 30 pounds fall off, would I? Heck yes. But I'm not going to completely flip upside down my life just to shed some LBs. Being skinnier is just not that high on my priority list. So, for me, Jumpstart to Skinny just isn't a good fit. The same may or may not be true for other people. I think that's for each person to decide.
That being said, it hasn't stopped my self-doubt from creeping in. Maybe Bob Harper is right. Maybe he knows more about this that I do. Maybe I should try and see if it works. Maybe I'm wrong. Maybe I'm eating all the wrong food. Maybe I'm not taking care of myself. Maybe he knows my body better than I do.
False. Nope. Wrong-o. No one knows my body better than I do, and I have to keep that in mind. Sure, Bob Harper may be an expert, and sure, some of his advice and principles may work in my world, but I have to be the final say in how I treat my body. And if something he is saying makes me uncomfortable (no matter how well it works for other folks), I have to trust that feeling. I have to trust my intuition. I have to trust that I know how to take care of my body. For the longest time, I couldn't count on that. I didn't know how to take care of my body. But now, I do. And I need to be confident and strong in that knowledge.
Who has two thumbs and is a work in progress? This girl.
Okay, really, that whole spiel had a whole lot of nothing to do with my WIAW eats this week. Ha! I just needed to word vomit some feelings I've been having. Anywho, onto the food before I bore you with some other ramblings…
Are there any other savory breakfast people in the house? I'm okay with waffles, pancakes, oatmeal, smoothies, etc., but my favorite breakfast is of the savory variety. I will always choose bacon and eggs over donuts. This time, I had two poached eggs over toast with a side of sliced apples. No bacon.
We had a rogue chilly day on Monday, and I refuse to turn the heat on in May, so I was freeeeezing by the time lunch came around. Soup was calling my name! I had a bowl of roasted red pepper and tomato soup (from a box) plus a grilled cheese and salad on the side. I ate my soup, salad and breadsticks grilled cheese out under the sun and felt much toastier.
Lunch dessert was a no-bake cookie! We hardly ever make these because Craig and I can polish off a whole batch in an afternoon (we looooveeee no bakes!) but I made a batch this past weekend and we're going on our 5th day of them still being around. Progress!
Dinner was done on the grill—tofu burgers with grilled peppers and onions, feta and mustard. On the side, I had a few grilled potato planks.
For dessert, Craig and I dug into the last two pieces of Light Triple Coconut Cream Pie leftover from Mother's Day. Holy wow, do I love that recipe.
As always, big thanks go out to Jenn at Peas and Crayons for hosting this fun food-filled party we have every week. If you guys haven't clicked over to the main WIAW post yet, you should! There are so many fun eats and so many new blogs to discover. You could lose a handful of hours just discovering new friends and foods!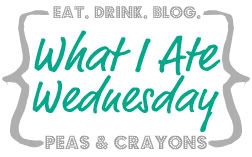 Are you good at trusting your intuition?
This giveaway is now CLOSED.

Oh man, do I have a fun giveaway for you guys today! Have you ever heard of Bestowed? They are subscription based service, kinda like Birchbox, but instead of beauty products, the Bestowed box is chock full healthy, good-for-you food. And it gets delivered to your door every month. Is this a dream?
The nice people at Bestowed offered to send me a box, and I have to be honest, I wasn't expecting much. So often, these sample boxes are full of just a few items that you'll probably never use, but this box was FULL of yummy foods that were right up my alley. Of course, the boxes change each month (with new foods and products), so you'll rarely get the same thing, but just take a look at this example of last month's box. Holy goodies, Batman!
Inside was a full-size (!) KIND Granola, four Hi-Fiber Mini bars (which we've been tossing in our backpack for hiking), a full size (!) Hemp Hearts package (so good on salads), two packets of Eboost, a sample of Hot Chili Oloves, a few Nektar honey crystals (I LOVE these!) and a $25 iTrain gift card. That is so much stuff! Each box runs $19 per month—and there is definitely more than $19 worth of stuff in that box.
Bestowed has offered to giveaway one free month's subscription to a BTHR reader! Yay! Ready to win?
PRIZE: One month subscription to Bestowed (one box)
TO ENTER: Comment on this post and tell me what fun plans you have for this weekend.
GIVEAWAY CLOSES: Tuesday, May 14th, 2013 at Noon (12pm) EST
NUMBER OF WINNERS: One
ELIGIBLE FOLKS: This giveaway is open to folks with a U.S. mailing address only. Sorry, international readers! I try to snag as many international give aways as I can. Maybe next time!
WINNER ANNOUNCED: Wednesday, May 15th, 2013 on this here post!
LEGALESE: To enter you must be 18 or older. Winner will be chosen by random drawing from the pool of comments on this post. To be considered for the prize, you must provide a valid email address. One entry per email address. Once a winner is notified and verified, Bestowed will be provided with the contact information of the winner and they will be responsible for  prize fulfillment. The number of eligible entries received determines the odds of winning. To enter, leave a comment on this post. No purchase necessary to win. Entries will close on Tuesday, May 14, 2013 at noon (EST). The winner will be contacted by email on or before Wednesday, May 15, 2013. If the winner does not claim the prize within seven days, the original winner forfeits the prize and a second random entry will be chosen from the pool. This contest is sponsored by Bestowed and is void where prohibited by law.
DISCLOSURE: In exchange for this blog post, as well as posting this giveaway, I was compensated with one Bestowed box.
Which fun plans do you have for this weekend?
We have a winner! Congrats to Michaela who had graduation and a fun concert last weekend. Enjoy your box, Michaela!
I'm kinda an NPR junkie. I think there's some switch that flips on in your late 20s that suddenly makes NPR totally fascinating and awesome. There are so many shows I love on NPR, but one of my favorites is The Splendid Table. Gosh, it's so good. I never would have thought a food show could be so successful on the radio, I mean, no photos, no smells, no tasting, but it really is incredible. Every show leaves my mouth-watering and me itching to get into the kitchen.
A few weeks ago, the show started off with a description of the simplest, easiest, most delicious sounding asparagus recipe I'd ever heard—Midnight Asparagus. It's a one skillet meal that's all cooked under the broiler in about 10 minutes, resulting in an insanely delicious, insanely easy dinner for two (or midnight snack, if you're living up to the name of the recipe).
Our asparagus patch is producing overtime, and I'm loving every fresh, tender spear of it. I'm sure I'll eventually get sick of living on asparagus, but for now, I'm reveling in our harvest! Asparagus is actually pretty easy to grow around here. I know some people struggle with it because it's such a heavy feeder, but it comes up year-after-year around here without any issues. Since asparagus is a perennial (meaning, it comes up every year from the same plant), we're still eating off the same plants my parents planted in the garden years ago. To get it to produce in the spring, all we have to do is give it a little blanket of mulch over the winter, then come April, we've got spears! Easiest veggie ever.
I'm going to go ahead and warn you about the influx of seasonal recipes coming up around here over the next few months. I love eating seasonally (everything is so yummy!) but it means that the variety of food crossing my kitchen table at one time isn't all that vast. We're going to be stuck on asparagus, spinach and lettuce for a while. Then we'll get to broccoli, cauliflower, peas, potatoes, onions and garlic. And then we'll pretty much be living on tomatoes, corn and beans. And then we'll welcome in the cooler weather with squashes and another batch of all the cool-weather crops. I hope you're okay with following me through this journey. I promise it'll be yummy!
This recipe is so simple, so easy that it seems like it has to be bland, but it's just the opposite. The simple flavors really let the flavors of the fresh asparagus shine. The soft-cooked eggs make for a velvety sauce that coats the asparagus and onions and is delicious sopped up into a piece of crusty bread. To balance out the richness of the eggs, I squeezed half a lemon on top to add a nice hint of acid.
We'll be eating this all asparagus season long. Enjoy!
Midnight Asparagus with Eggs
Adapted from: The Splendid Table
Cook Time: 10 minutes | Makes: 2 servings
Ingredients
2 tablespoons butter
Pinch of red pepper flakes
2 cloves garlic, minced
1 medium onion, diced
1 pound of asparagus, ends trimmed and cut into 1″ pieces
4 eggs
Salt and pepper, to taste
Juice of half a lemon
Instructions
Preheat the broiler to high. Put the butter in a medium cast iron or other oven-proof skillet. Place the skillet under the broiler to melt the butter.
Once butter is melted, add in the red pepper flakes, garlic, onion and asparagus. Place back under broiler and cook for about 5 minutes, or until the asparagus is tender, but not fully cooked.
Push aside the asparagus mixture to make space and crack four eggs into the skillet. Place back under the broiler and cook for 2-3 minutes, or until the whites are cooked through, but the yolks are still soft.
Remove from broiler, top with salt, pepper and lemon juice. Serve directly from the skillet with crusty bread or divide into individual plates to serve.
Nutritional Info
Serving Size: About 1 cup asparagus mixture and two eggs | Servings Per Recipe: 2  
What's your favorite way to eat asparagus?
I'm feeling really great about my eats this week. Over the weekend, I made a pretty detailed menu chart and following that this week has been super helpful. Planning is good, friends!
Onto my food from this past Monday…
On the docket for breakfast was a yogurt bowl, but Craig was in the mood to make pannukakku—a Finnish oven pancake, and I'm not one to turn down delicious, delicious cultural food made by my husband, so I had a small piece with some of our maple syrup. I still had my yogurt bowl on the side, just a smaller version with Greek yogurt, kiwi, blueberries, raisins and chia seeds. I also had a cup of decaf coffee. Yum!
I'm trying to be a bit more preemptive with my eating, so I whipped myself up a snack late morning—a sliced apple with peanut butter (actually, PB2 mixed with water) and a hard-boiled egg.
For lunch, Craig and I dug into our stash of homegrown asparagus, yum! I roasted up a skillet of garlic, onion, and asparagus, and then cooked some eggs alongside and some toast to dip it in. We both split this skillet—no need for plates! I'll have more details about this recipe tomorrow.
Dinner was a big bowl of dairy-free stuffed shells (love this recipe!) and a side salad made from lettuce from our garden. Craig and I both had a massive chocolate craving later, and he whipped us up a small batch of no bake cookies that managed to miss the camera lens. I had two and man, they were delicious!
As always, big thanks go out to Jenn at Peas and Crayons for hosting this fun food-filled party we have every week. If you guys haven't clicked over to the main WIAW post yet, you should! There are so many fun eats and so many new blogs to discover. You could lose a handful of hours just discovering new friends and foods!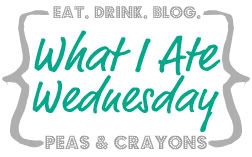 What's the best thing you've eaten so far this week?
One of the interesting things about being married (or really being in any long-term relationship—platonic, romantic, whatever!) is discovering all the familial traditions and quirks that come along with the other person. It never really hit me until college that not every family was exactly like mine. Not every family ate biscuits and gravy for Sunday morning breakfast. Not every family went to the movies on Christmas day. Not every family threw an obnoxiously large 4th of July party every year.
Over the years, my darling husband has mentioned "cabbage rolls" a few times in my presence. I had never had cabbage rolls. I had never seen a cabbage roll. I had no idea what cabbage rolls were. In fact, if anything, I thought they were maybe something like a Chinese lettuce wrap—and this girl doesn't do Chinese food.
Whatever they were, these cabbage rolls were part of Craig's childhood. So when we started to get giant cabbage after giant cabbage in our CSA each week, I figured maybe it was time to dive into the world of cabbage rolls. If worst came to worst, I could eat a bowl of cereal for dinner.
Turns out, the cabbage rolls Craig talked about are not only not Chinese food (although, I'm sure there is something similar in Chinese cuisine), but they are also really a pretty prevalent dish in North American households. Apparently they're a "thing". Who knew?
Oh yeah, that's right, everyone but me.
Cabbage rolls are cabbage leaves (duh) stuffed with a flavorful filling—usually beef, sausage, rice and aromatics—and then baked under a blanket of tomato sauce until everything is yummy and delicious. Guess what? I like cabbage rolls!
I wanted to go vegetarian with this dish, so my version of these guys is minus the meat and plus a boatload of whole grains thanks my heavy handed use of wheat berries. If you've never worked with wheat berries before, you can find them in most of your natural foods stores (we get them in our CSA every now and again) and they are the entire kernel of the wheat plant. Which means, the only processing they've gone through is to remove the inedible hull around the berry. You can't get more whole wheat than this!
I love wheatberries because they retain a really nice chew to them, even when cooked for long periods of time. Some folks might be turned off by the chew, so if you prefer less of a jaw workout, you can sub in farro, brown rice or freekeh. I also think lentils would make for an excellent, protein-packed substitute.
One word of caution about cabbage rolls—these suckers are definitely not a weeknight meal. They require quite a few steps and upwards of two hours from start to finish. Save this dish for a Sunday super when you feel like trying something new. Thankfully, the recipe makes enough that you can stash them in the fridge for leftovers all week long—they reheat beautifully.
Enjoy!
Wheatberry Cabbage Rolls
Prep Time: 1 hour 15 minutes | Cook Time: 45 minutes | Makes: 8 servings
Ingredients
2 cups raw wheatberries
4 cups vegetable broth
1 head of cabbage
1 tablespoon butter
2 cloves garlic, minced
1 large onion, diced
1 large green pepper, diced
1 teaspoon Italian seasoning
1/2 cup ketchup
1/2 teaspoon fennel seeds
2 tablespoons maple syrup (or brown sugar)
2 tablespoons apple cider vinegar
2 tablespoons Worcestershire sauce (use vegan, if you can)
8 ounces cream cheese, softened
Salt and pepper, to taste
2-14 ounce cans diced tomatoes
Instructions
Preheat oven to 350°. Combine the wheatberries and broth in a medium saucepan over high heat. Bring to a boil, reduce heat and simmer until the wheatberries are tender and the liquid has been absorbed—about 20 minutes. Set aside.
While the wheatberries cook, fill a large stock pot with water and bring to a boil. Once boiling, drop the whole head of cabbage in the water and cook until the outer leaves are tender and bright green, about 10 minutes. Remove cabbage from water carefully (it'll be hot!) and drain on paper towels. Once cool enough to handle, pull off the large outer leaves (you'll need at least 16 of them) and cut out the base of the thick stem. Dice the remaining cabbage and set aside.
Meanwhile, heat the butter over medium heat in a large skillet or Dutch oven. Once melted, add in the garlic and cook until fragrant and tender, about 3 minutes. Then add in the onion and green peppers and cook until tender, about 10 minutes.
Add in the remaining diced cabbage, Italian seasoning, ketchup, fennel seeds, maple syrup, apple cider vinegar, Worcestershire sauce, cream cheese, salt and pepper. Reduce heat to low and simmer for 10 minutes.
In a blender, puree the two cans of diced tomatoes until very smooth.
To assemble the cabbage rolls, pour a small amount of the tomato puree on the bottom of a 9×13 casserole dish. For each roll, put about 1/2 cup of the wheatberry mixture in the middle of one of the cabbage leaves. Roll up tightly and place in prepared casserole dish. Continue with the remaining leaves and filling until the casserole dish is full. Pour the remaining tomato sauce over top of the rolls.
Bake in preheated oven for 40-45 minutes or until bubbly and browned. Remove from oven and let rest for 10-15 minutes before serving.
Nutritional Info
Serving Size: 2 rolls | Servings Per Recipe: 8  
Do you have any foods you've discovered thanks to your spouse or significant other?
What? A post on Saturday? Am I on the right blog?
Yes, you are! I've decided to switch things up a little bit on the ole blogging schedule. Instead of doing two posts on weekdays (for a total of 10 posts a week), I'm going to test out backing down to one post every day of the week (seven posts a week). Sure, it's a few less posts in total, but it means you get to hear from me daily (because I know you were totally missing me on the weekends, right?). It also means that I'll be able to devote more time crafting each and every post, keeping up with the comments on each post, and taking afternoon naps, which makes me a happy clam.
Speaking of clams, let's talk menu!
There are actually no clams on the menu this time around, I guess I should have said "makes me a happy block of tofu" to be more accurate, because the menu for the next two weeks is all about vegetarian dishes! I haven't really done it on purpose, but we're slowly becoming more and more vegetarian. It's easy to do when you have as many veggies coming out of your garden and CSA as we do. We don't have room for much meat in our fridge or our diet anymore! We'll probably put back in meat once Fall comes 'round and the production has slowed, but for now, it's all veggies all the time!
As always, we do our menu-planning two weeks at a time to save on grocery trips into the "big" city. So you'll see enough breakfast, lunches and dinners to cover 14 days of eating. Onto the eats…
Breakfasts + Snacks
Lunches
Snacks
Dinners
What's on your menu for this week? Any new recipes you're trying out?