One of the interesting things about being married (or really being in any long-term relationship—platonic, romantic, whatever!) is discovering all the familial traditions and quirks that come along with the other person. It never really hit me until college that not every family was exactly like mine. Not every family ate biscuits and gravy for Sunday morning breakfast. Not every family went to the movies on Christmas day. Not every family threw an obnoxiously large 4th of July party every year.
Over the years, my darling husband has mentioned "cabbage rolls" a few times in my presence. I had never had cabbage rolls. I had never seen a cabbage roll. I had no idea what cabbage rolls were. In fact, if anything, I thought they were maybe something like a Chinese lettuce wrap—and this girl doesn't do Chinese food.
Whatever they were, these cabbage rolls were part of Craig's childhood. So when we started to get giant cabbage after giant cabbage in our CSA each week, I figured maybe it was time to dive into the world of cabbage rolls. If worst came to worst, I could eat a bowl of cereal for dinner.
Turns out, the cabbage rolls Craig talked about are not only not Chinese food (although, I'm sure there is something similar in Chinese cuisine), but they are also really a pretty prevalent dish in North American households. Apparently they're a "thing". Who knew?
Oh yeah, that's right, everyone but me.
Cabbage rolls are cabbage leaves (duh) stuffed with a flavorful filling—usually beef, sausage, rice and aromatics—and then baked under a blanket of tomato sauce until everything is yummy and delicious. Guess what? I like cabbage rolls!
I wanted to go vegetarian with this dish, so my version of these guys is minus the meat and plus a boatload of whole grains thanks my heavy handed use of wheat berries. If you've never worked with wheat berries before, you can find them in most of your natural foods stores (we get them in our CSA every now and again) and they are the entire kernel of the wheat plant. Which means, the only processing they've gone through is to remove the inedible hull around the berry. You can't get more whole wheat than this!
I love wheatberries because they retain a really nice chew to them, even when cooked for long periods of time. Some folks might be turned off by the chew, so if you prefer less of a jaw workout, you can sub in farro, brown rice or freekeh. I also think lentils would make for an excellent, protein-packed substitute.
One word of caution about cabbage rolls—these suckers are definitely not a weeknight meal. They require quite a few steps and upwards of two hours from start to finish. Save this dish for a Sunday super when you feel like trying something new. Thankfully, the recipe makes enough that you can stash them in the fridge for leftovers all week long—they reheat beautifully.
Enjoy!
Wheatberry Cabbage Rolls
Prep Time: 1 hour 15 minutes | Cook Time: 45 minutes | Makes: 8 servings
Ingredients
2 cups raw wheatberries
4 cups vegetable broth
1 head of cabbage
1 tablespoon butter
2 cloves garlic, minced
1 large onion, diced
1 large green pepper, diced
1 teaspoon Italian seasoning
1/2 cup ketchup
1/2 teaspoon fennel seeds
2 tablespoons maple syrup (or brown sugar)
2 tablespoons apple cider vinegar
2 tablespoons Worcestershire sauce (use vegan, if you can)
8 ounces cream cheese, softened
Salt and pepper, to taste
2-14 ounce cans diced tomatoes
Instructions
Preheat oven to 350°. Combine the wheatberries and broth in a medium saucepan over high heat. Bring to a boil, reduce heat and simmer until the wheatberries are tender and the liquid has been absorbed—about 20 minutes. Set aside.
While the wheatberries cook, fill a large stock pot with water and bring to a boil. Once boiling, drop the whole head of cabbage in the water and cook until the outer leaves are tender and bright green, about 10 minutes. Remove cabbage from water carefully (it'll be hot!) and drain on paper towels. Once cool enough to handle, pull off the large outer leaves (you'll need at least 16 of them) and cut out the base of the thick stem. Dice the remaining cabbage and set aside.
Meanwhile, heat the butter over medium heat in a large skillet or Dutch oven. Once melted, add in the garlic and cook until fragrant and tender, about 3 minutes. Then add in the onion and green peppers and cook until tender, about 10 minutes.
Add in the remaining diced cabbage, Italian seasoning, ketchup, fennel seeds, maple syrup, apple cider vinegar, Worcestershire sauce, cream cheese, salt and pepper. Reduce heat to low and simmer for 10 minutes.
In a blender, puree the two cans of diced tomatoes until very smooth.
To assemble the cabbage rolls, pour a small amount of the tomato puree on the bottom of a 9×13 casserole dish. For each roll, put about 1/2 cup of the wheatberry mixture in the middle of one of the cabbage leaves. Roll up tightly and place in prepared casserole dish. Continue with the remaining leaves and filling until the casserole dish is full. Pour the remaining tomato sauce over top of the rolls.
Bake in preheated oven for 40-45 minutes or until bubbly and browned. Remove from oven and let rest for 10-15 minutes before serving.
Nutritional Info
Serving Size: 2 rolls | Servings Per Recipe: 8  
Do you have any foods you've discovered thanks to your spouse or significant other?
What? A post on Saturday? Am I on the right blog?
Yes, you are! I've decided to switch things up a little bit on the ole blogging schedule. Instead of doing two posts on weekdays (for a total of 10 posts a week), I'm going to test out backing down to one post every day of the week (seven posts a week). Sure, it's a few less posts in total, but it means you get to hear from me daily (because I know you were totally missing me on the weekends, right?). It also means that I'll be able to devote more time crafting each and every post, keeping up with the comments on each post, and taking afternoon naps, which makes me a happy clam.
Speaking of clams, let's talk menu!
There are actually no clams on the menu this time around, I guess I should have said "makes me a happy block of tofu" to be more accurate, because the menu for the next two weeks is all about vegetarian dishes! I haven't really done it on purpose, but we're slowly becoming more and more vegetarian. It's easy to do when you have as many veggies coming out of your garden and CSA as we do. We don't have room for much meat in our fridge or our diet anymore! We'll probably put back in meat once Fall comes 'round and the production has slowed, but for now, it's all veggies all the time!
As always, we do our menu-planning two weeks at a time to save on grocery trips into the "big" city. So you'll see enough breakfast, lunches and dinners to cover 14 days of eating. Onto the eats…
Breakfasts + Snacks
Lunches
Snacks
Dinners
What's on your menu for this week? Any new recipes you're trying out?
Happy Friday, friends and happy Derby weekend!
Living in this area of the country for my entire life, I've never really had a frame of reference for how big of a deal the Kentucky Derby is to people elsewhere. I'm assuming that most of you know what it is (a horse race!) and that some of you may even watch it if you happen to catch it on TV (it is only two minutes long!) and that's about the extent of it. But around here, Derby is a big, flipping deal. Schools are closed today. When I worked for a marketing firm in Louisville, Derby week meant that every day at noon, our boss would whip out his credit card and take us all to a bar for the rest of the afternoon. We've lost count of how many fancy private planes (probably carrying celebrities and really, really, ridiculously rich people) we've seen fly over our house this week. See? Big. Deal. So big, in fact, I made you some dessert to celebrate.
Derby has been part of my life for as long as I can remember. Around here there is a whole big festival leading up to the actual race, and I've marched in the parade (color guard, represent!). I've cruised on the Belle of Louisville steamboat during the opening ceremonies. I've cheered on the sidelines of the Derby Festival Marathon. But even though I've always been involved in Derby, can you believe I've never actually been to the race? Heck, I've never even been inside Churchill Downs. I should really get to work on that. I could don a fancy dress, big hat and drink mint juleps all day. Doesn't sound half bad!
If you've never had a mint julep before, be warned—it'll knock you on your bum. A mint julep is about 99.9% pure bourbon with a splash of mint and sugar. I have to admit, bourbon isn't my most favorite of liquors in mixed drinks (I'm a tequila and gin girl) but I do have a special spot in my heart for bourbon as flavor note in desserts. If you never had a bourbon ball or a Derby pie, you are seriously missing out. And I think this frozen yogurt is an awesome way to translate that bourbon flavor into a lighter, summery dessert. Plus, if you've ever had issues with homemade frozen yogurt or ice cream getting hard or icy, adding liquor is the trick. Since hard alcohol doesn't freeze, a couple of tablespoons of it can really help keep the texture of your creation soft and scoop-able  I use vodka a a flavorless addition in most recipes, but bourbon does the trick here and it tastes yummy!
I should probably make note that this dessert ain't for the kiddies. I know most recipes that use booze say it's fine because the  alcohol cooks off, but that is so not the case in this one. In fact, just for good measure, I tossed an extra glug or two straight into the ice cream maker. Boozy. And delicious. Perfect for your Derby party tomorrow. You are having a Derby party, right?
For what it's worth, my Derby pick this year is Mylute. Only because I always pick a gray horse, and there isn't a gray horse in the field this year (OH THE HUMANITY!). So instead, I'm going with Mylute, who is a beautiful, stand-out-of-the-crowd black horse.
My method is not precise. And has never won me any money.
Enjoy!
Mint Julep Frozen Yogurt
Prep Time: 3 hours | Cook Time: 15 minutes | Makes: 1 quart
Ingredients
3/4 cup bourbon, divided
1/2 cup fresh packed mint leaves
1 cup sugar
3 cups plain, lowfat yogurt
1/2 teaspoon peppermint extract (optional)
Instructions
In a small saucepan over medium heat, combine 1/2 cup of the bourbon, mint leaves and sugar. Bring to a boil, reduce heat and simmer until the sugar is dissolved and the mint has infused into the bourbon, about 10 minutes. For better minty flavor, try tearing or muddling the mint leaves before boiling to release some of the natural oils.
In a mixing bowl, combine the bourbon mixture, yogurt and peppermint extract, if using (only use if your mint leaves are weak, the flavor of the mixture should just be slightly minty, but mint varies from batch to batch). Chill mixture until completely cold, about 2 hours.
Process yogurt in your ice cream maker per the manufacturer's instructions, adding in the remaining bourbon just before it is finished. Or, if you don't have an ice cream maker, freeze in a large bowl, stirring every 10-15 minutes until frozen. This method will result in an icier frozen yogurt.
Nutritional Info
Serving Size: 1/2 cup | Servings Per Recipe: 8
Have you ever had a mint julep before? Have you ever been to the Derby? Would you go with me and wear big silly hats and drink mint juleps?
One aspect of healthy eating I've always struggled with is portion control. I have a theory where this comes from (and it's just a theory). My depression-era grandfather never had enough to eat growing up, so when he got a little older, the economy was recovered, he was making his own money and a full dinner plate was a reliable part of the day, he ate. A lot. He ate big portions and big meals. He had second and third helpings. He ate like it might all go away at some point, because, for him, it did once. So my Dad grew up in an environment where the portions were large and second-helpings were a compliment to the cook. And then, that conditioning was passed along to me.
Of course, I'm not blaming my weight, portion control and food issues on my Dad (Ha! Wouldn't that be easy?) but I think that depression-era mindset is something that has never really left our family. Even though I've never, in my life, gone hungry. I find myself constantly worried that there won't be "enough". If I don't have two slices of cherry pie now, I'll never ever in my life ever get another slice ever. Or if I don't take this giant serving of something delicious at dinner, it'll be gone tomorrow. When that couldn't be further from the truth. I'm a fairly successful adult with a debit card and access to grocery stores that carry enough food to feed me and 50,000 of my closest friends. There will always be more. I can always make more. But every, single day, I fight the urge to just put another scoop into my bowl or grab another forkful from the casserole dish.
Anywho, this is all related to my WIAW this week, because of my oatmeal bowl in the morning. I looked at the serving size (1/2 cup of dried oats) and thought, "there is no way that's enough!" So I doubled it. Then, it turned out, there was only about a 1/4 cup left in the container, so I just tossed that in, too. Soon enough, with all the add-ins and toppings, I had a 971 calorie oatmeal bowl. The interesting thing about that—it's not like the oatmeal is going anywhere. We don't have oatmeal-stealing gremlins living in our pantry. Why didn't I just start off with 1/2 cup, and then come back later if I was still hungry? Why am I constantly afraid of going hungry when I've never in my life gone hungry before? Onto my eats…
Ahh, the infamous 971 calories worth of oatmeal! I was freezing yesterday morning, so I was looking for something warm. I managed to hit that 971 calories thanks to a bloated portion and overdoing it a bit with the richer mix-ins. It was delicious! And it kept me full for about six hours (as it should). So yay for that! In the mix: oats, raisins, PB2, chia seeds, coconut oil. And on top: a touch of butter, baked apples, cinnamon, coconut milk and a drizzle of maple syrup.
For lunch, I made a sandwich! We hardly ever have sandwiches in our house, which is a total bummer because I love them. This guy was: rye bread, mayo, mustard, alfalfa sprouts, harvarti, pastrami, lettuce, tomatoes and tortilla chips (you do put chips on your sandwich right?). Alongside, I had two carrots, a hard boiled egg and a square of dark chocolate for lunch dessert.
Craig was working late, so I had an afternoon snack around "normal" dinner time—a banana and a LARABAR.
Dinner was what we like to call "hash" in our house—although it only somewhat resembles what hash typically is. We eat this probably 2-3 times a week using different veggies, greens and mix-ins. It's a great way to clear out the fridge before our CSA box shows up. In this bowl: a bed of cooked amaranth topped with bacon, garlic, leeks, tofu, kohlrabi, zucchini, spinach, potatoes, feta and two poached eggs. Yum.
For dessert, I had a small bowl of Mint Julep Frozen Yogurt—a recipe that will be coming your way toward the end of this week, just in time for your Derby parties! It is so, so good. And really, really boozy. Not for kids.
As always, big thanks go out to Jenn at Peas and Crayons for hosting this fun food-filled party we have every week. If you guys haven't clicked over to the main WIAW post yet, you should! There are so many fun eats and so many new blogs to discover. You could lose a handful of hours just discovering new friends and foods!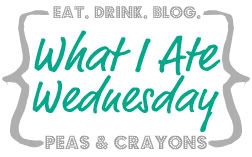 What's the best thing you've eaten so far this week?
I'm constantly looking for ways to streamline healthy eating in our house. One thing I've learned about myself in my quest to keep up a healthy diet—if it ain't easy, I'm probably not going to follow through. That's why I'm such a big fan of single serving yogurts. They are inherently portion controlled, super easy, tasty and full of healthy fats, protein and probiotics.
Unfortunately, there are also quite a few things that I don't love about single serving yogurts. I really hate all the waste they create. We try to reuse our leftover yogurt containers wherever possible (and recycle if we can't reuse), but that's still generating way more waste than I feel comfortable with.  I also don't love the price. If you hit a good sale, you can maybe get organic yogurt for $1 per single-serving container (which averages around 6 ounces). By making my own yogurt from organic milk, I can get a full gallon of yogurt for about $5. A gallon at single serving prices=$21. That's a hefty savings when you eat as much yogurt as we do.
I'm not sure why this never occurred to me before, but last week, as I was ogling over the giant cartons of flavored Chobani at Costco, I had a thought—why not make my own single serving yogurts? That way, I can make sure I use reusable containers and get the cost-savings of making yogurt in bulk, while still enjoying the convenience of single-serving yogurts. Bonus: I get to control the sugar-content and flavors of whats in each batch of yogurt.
I think you probably could have seen the lightbulb over my head from all the way across the store.
So after spending a small fortune at Costco (and not getting the beautiful cases of Chobani), my next stop was our local megamart to the Mason jar aisle, where I found these adorable little four ounce quilted jelly jars. For a set of 12, these set me back about $9. They are a touch smaller than your usual single-serving yogurts, but you could just as easily pick up the eight ounce jelly jars and do the same thing. I just couldn't resist the cute little jars. And at $0.75 each, I pretty much make my money back on the first batch of yogurts! Woohoo!
For the fruit-on-the-bottom part, I came up with a lightly-sweet blueberry-chia syrup concoction that not only looks great in the jars, but adds tons of flavor, antioxidants and omega-3s. You'll find the recipe below, and feel free to adjust it and tweak it to make it your own. I like to keep the sugar content on the low side, so if you're into sweeter yogurts, I'd up the sugar content. And you can use whatever fruits and flavors make your heart sing.
On top, I just put my standard, plain homemade yogurt. If you aren't into making your own yogurt (although, side note, you should be—it's so easy and cheap!), you can just as easily buy the large tubs of yogurt and follow the same process. You'll still be saving money over buying the single-serving versions.
Happy food prepping!
Fruit on the Bottom Yogurt Syrup
by Cassie Johnston
Prep Time: 5 minutes | Cook Time: 10 minutes | Makes: About 1-1/2 cups
Ingredients
1-1/2 cups fresh or frozen fruit
3 tablespoons chia seeds
1/2 cup water
2-4 tablespoons honey or maple syrup
Instructions
Combine all ingredients in a medium saucepan over medium heat. Bring to a boil, reduce heat and simmer until sauce is thickened.
Spoon into yogurt jars (about 2 tablespoons per single-serving jar) or serve over pancakes or ice cream.
What is your favorite way to save some time in the kitchen?
My gosh, I am feeling really great this week, friends! I took this weekend "off" from work and instead focused on spending some relaxing time with my favorite Babyface, Puppyface and Kittyface (and, let's be honest, getting lots of work done around the property). Come Sunday evening, I started to feel a little guilty about shucking my responsibilities all weekend long, but by the time Monday rolled around, I was refreshed and ready to be my most productive self. It's amazing what a couple of days off can do for the soul! I gotta do that more often.
It also meant that I carved out some time this weekend to do lots of food prep and make sure that things were in tip-top shape for a healthy food week. Seriously, if you are feeling overwhelmed about healthy eating, I urge you to think about devoting a few hours on the weekend to food prep. Not to sound dramatic, but it's changed my life.
Alrighty, enough with the theatrics, on my eats from this past Monday…
Breakfast was a little smorgasbord of items from my food prep stash: hard-boiled egg, sliced apples, blueberry pie bar (adapted from this recipe) and a homemade fruit-on-the-bottom yogurt. More on that guy later this afternoon.
For lunch, I put some tuna salad on my beloved rye crisps (four ingredients, 40 calories each, whole grain, totally delicious). Alongside, I had some chopped veggies (kohlrabi, carrots and sad looking celery) a pear and a square of dark chocolate for lunch dessert.
You know I couldn't pass up the opportunity to test out a bowl of my Coconut Milk Banana Pudding, so I dove into a scoopful for an afternoon snack. I also snacked on a rogue vanilla wafer or two as I was assembling the pudding.
I had a lot of computer work to do that evening, so to make things more interesting, I poured myself a beer. I am definitely one of those creative types that does better work when she has a bit of booze in her system.
Dinner was some reheated leftover veggie spaghetti (with all kinds of yummy veggies in the sauce) and a side salad with lettuce, carrots, feta and a yogurt caesar dressing. Worth noting, I ate all of my meals on this day at my desk. Which is not a habit I'd like to get into. I'm going to issue myself a challenge for the rest of this week to eat away from my desk. Take a break! Enjoy a meal!
As always, big thanks go out to Jenn at Peas and Crayons for hosting this fun food-filled party we have every week. If you guys haven't clicked over to the main WIAW post yet, you should! There are so many fun eats and so many new blogs to discover. You could lose a handful of hours just discovering new friends and foods!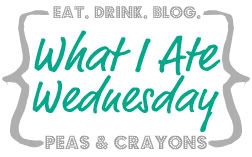 What's the best thing you've eaten so far this week?