Breakfast has been my jam lately. It's almost entirely because my morning sickness (what a terribly misleading name) is actually afternoon/evening sickness. I feel awesome when I first wake up! And since I'm itching to get in the kitchen and create things—and onions and garlic are still on the please-don't-bring-these-anywhere-near-me list—it means my creations are focusing pretty solidly on sweet breakfast foods.
I haven't been stressing too much about my eating during pregnancy. In fact, my midwives have told me that with continuing morning sickness like mine (going on week 24—yay?), getting in any food and keeping it down is more important than the quality of food. Of course, I haven't taken this as a pass to nosh on fast food at every turn, but I'm not beating myself up about my dinners of cereal or white toast. Or the occasional trip to Rally's for their fries. Because, uh, yum.
What I have been doing is trying hard to frontload my days with healthy eats. I try to get in as many healthy fats, whole grains, fruits and veggies before noon, because on most days, come about 3pm, all bets are off.
These breakfast cookies are a great way to help me get into some goodies before my body decides it wants to boycott eating in the afternoon. They are entirely whole grain, they are sweetened with all-natural honey and applesauce—oh, and they're way tasty. If you're a big fan of sweet treats for breakfast (think: donuts, pastries, scones, muffins), these breakfast cookies are a nice way to ease you into a healthier sweet breakfast option. They're sweet, but not eating-cake-for-breakfast kind of sweet. And with that sweetness, you're getting a ton of fiber, healthy fats, and even a nice dose of Omega-3s thanks to some ground flax seed.
Of course, these cookies aren't just for breakfast. I've also been grabbing a couple of them with a piece of fruit as an on-the-go snack. Basically, these cookies will work for just about any meal of the day. Except dessert. I mean, sure, they're called cookies, but they're not dessert cookies.
A bit of a tangent here: for years, when I would try to lose weight, I thought being "healthy" meant that everything I consumed had to be totally, 100% healthy. It was all or nothing. If I happened to slip up and eat a mini-Snickers bar at work, I had ruined everything (drama queen, what). It led me to trying to healthify absolutely everything. I wouldn't eat dessert if it wasn't sweetened with applesauce only. I wouldn't eat pasta unless it was the whole wheatiest, crunchy, hippiest pasta in the store. I wouldn't even go near a restaurant unless it had healthy, organic options on the menu.
Of course, that just totally set me up for failure. Because life isn't about everything being healthified. Life is about enjoying a piece of birthday cake that your mom handmade for you (with, gasp, real butter, sugar and white flour). Or eating a big salad of veggies fresh from your garden. Or digging into a bowl of melty, cheesy, gooey mac and cheese after a really rough day at work. Or eating applesauce-sweetened, whole grain breakfast cookies.
It wasn't until I realize that the world of applesauce-sweetened cookies and the world of melty, cheesy, gooey mac and cheese could actually co-exist that I started to get really healthy. And that's, obviously, the philosophy that led me to start this blog of mine.
Anywho, I know that sweets aren't all that important to some people, but because I have such a raging sweet tooth, part of my food philosophy is that, if I'm going to have dessert, I'm going to have dessert. Maybe a small amount. Maybe not every day. Maybe not something terribly decadent every time. Maybe not on a day when I've already had a bucket full of melty, cheesy, gooey mac and cheese. But if I'm going to do it, I'm going to do it right. And as delicious as these breakfast cookies are alongside coffee and orange slices in the morning or as a grab-and-go snack, they are not dessert cookies. Promise me you'll go out and get yourself a hunk of chocolate or a little bowl of ice cream or a piece of cheesecake and not eat these cookies for dessert, k? You deserve a better dessert than these.
End of PSA. Onto the cookies!
Oatmeal Raisin Breakfast Cookies
Cookies for breakfast? Absolutely! These whole-grain, lightly-sweet cookies are a great way to kick your day off right. If you're pressed for time on most mornings, make up a big batch of these on a slow weekend and freeze. A few seconds in the microwave, and they're just like fresh-baked!
Ingredients
1/2 cup melted coconut oil (or other mild-flavored oil)
2 eggs
1 teaspoon vanilla extract
1/2 cup unsweetened applesauce
1/4 cup honey
1 1/2 cup whole wheat flour
1 cup rolled oats
1/4 cup ground flaxseed
1/2 teaspoon baking soda
1/2 teaspoon ground cinnamon
1/2 cup raisins
Instructions
Preheat oven to 350°. Line a baking sheet with parchment paper. Set aside.
In a small bowl, whisk together the coconut oil, eggs, vanilla extract, applesauce and honey until well combined. Set aside
In a medium mixing bowl, stir together the flour, oats, flaxseed, baking soda, cinnamon and raisins until well combined. Add in the wet ingredients and stir until completely mixed. The batter will be wet. Allow the batter to rest for 5 minutes (this helps thicken it a bit).
Spoon rounded tablespoons, two inches apart onto the prepared baking sheet.
Bake in preheated oven for 12-15 minutes, or until the cookies are golden brown around the edges. Let cool 5 minutes on the baking sheet, then remove to cooling rack to cool completely.
http://backtoherroots.com/2014/02/13/oatmeal-raisin-breakfast-cookies/
P.S. You may have noticed that I'm slowly switching over to a brand new, fancy way of displaying my recipes. Please bear with me while I make the transition! When it's all done, you'll be able to share, print and save just like before, but also make grocery lists and menus, plus find coupons and deals for the ingredients you need to make my recipes. I'm excited!
Are you a sweet or a savory breakfast person?
Let's all do a collective knock on wood, but I think I may have turned a corner with my morning sickness. The food aversions are still strong, I'm still trending toward sugary foods instead of savory ones, and I still don't have much of an appetite after 3pm, but as far as actually queasiness and tossing my cookies? It's been all but gone this week. I really hope this trend keeps on keeping on. It feels so nice to eat like a human again! And, the most amazing part, I actually feel hungry again. I haven't really felt like eating for months, I've just been eating because I know I need to. But to actually feel hungry and to satisfy that hunger with food is amazing!
It's the little things. Okay, onto my eats from yesterday . . .
After passing out promptly at 7:30pm the night before, I woke up at 5am absolutely ravenous. My big breakfast thing lately: frozen waffles. I made up a huge batch of these honey coconut whole wheat waffles (I really need to share the recipe with you guys, because man, they rock) and they are just stashed in the freezer waiting for a 5am trip in the toaster. I topped mine with a touch of maple syrup. Alongside, I had a bowl of wildberry whole milk yogurt (from this place, loving their dairy products) topped with some chopped plum and some blueberries. I also snagged a banana, because fruit is my life right now.
Breakfast #2 was a Larabar, pear, and a Fage Total with Cherry. Fage Total is my absolutely favorite Greek yogurt, and the kind with the cherry is out of this world. I can normally only find it in 0%, but Whole Foods had the whole milk kind this week. Yay! I also had a mug of decaf, with cream, maple syrup and coconut oil.
For a morning snack, I made a snack plate. I love these snack plates because they remind of the days when I used to pack myself bento boxes for work. On this plate: carrot sticks, grape tomatoes, a hard-boiled egg, apple slices and peanut butter, and a few peanut butter cookie date balls. Worth noting, I used raw peanuts to make those date balls this time, and they aren't nearly as good. Raw peanuts taste so much like a bean (which makes sense, since they aren't actually a nut, they're a legume). So these bites are a little…bean-y. But still edible.
Even though it doesn't photograph very pretty, lunch was a good one! Since I tend to have no appetite in the afternoon and evening, I decided to start making lunch my main meal (which is what a lot of experts recommend is the healthiest way to eat anyway). I made up a batch of not-so-normal beef stew. Craig's on a special diet for health reasons, and it means some of his veggie intake is limited, so instead of carrots and potatoes you'd normally find in beef stew, I put in rutabaga and zucchini. A little weird, but still tasty! Alongside, I had a couple of slices of buttered bread. Because stew isn't stew without something to sop up all the yumminess leftover in the bowl.
For an afternoon snack, I whipped up a smoothie. In the mix: banana, vanilla almond milk, an avocado, a dollop of peanut butter, a (tiny) handful of baby spinach, and a big, ole hefty scoop of unsweetened cocoa. Such a good combination. It's like drinking pudding. Worth noting: this is the first dose of any kind of dark, leafy green I've had since October. I really need to be making more green smoothies and tricking myself into eating more greens.
And of course, dinner was my typical bowl of cereal. I had some shredded mini wheats with banana. And then right before bed, I dug into a yogurt and a peach. One day, real dinners will return, I promise.
Big thanks go out to Jenn at Peas and Crayons for hosting this fun food-filled party. If you guys haven't clicked over to the main WIAW post yet, you should! There are so many fun eats and so many new blogs to discover.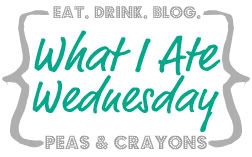 What's the best thing you've eaten so far this week?
Popcorn gets a bad rap a lot of times as far as snack foods go. I understand why—the stuff that comes in the bags from the vending machine or from the concession stand at the movie theatre is packed full of nasty chemicals, artificial colors and flavors, and more hydrogenated oils and salt than anyone should be consuming in a snack. And don't even get me started on the microwave bags of popcorn. While there are some natural and organic options out there, the vast majority of microwave popcorn is loaded with a laundry list of chemicals and general nastiness.
Popcorn itself is actually a crazy delicious, crazy healthy snack food. If you air pop your kernels (in either the microwave, a popper or on the stove), you can eat a whopping three cups of the stuff for less than 100 calories. And in that 100 calories, you're getting a hefty dose of healthy whole grains, vitamins, minerals and a very satisfying crunch. And if you're strapped for cash, it's hard to beat the affordability of air-popped popcorn. By skipping the boxes of microwave popcorn and heading straight for a bag of kernels, you can save a boatload of cash. Bagged kernels cost about 400% less on average than the microwave stuff (and, obviously, a ton less than the concession stand variety).
To air pop in the microwave, all you need is a small brown paper bag and some popcorn kernels. Put a couple of tablespoons of kernels in the bottom of the bag. Fold over the top of the bag twice. Place on its side in the microwave and zap on high for 2-3 minutes, or until the popping slows. Eat. Easy, peasy.
But let's get real here—sometimes air-popped popcorn is boring. And the truth is, movie theatre and microwave popcorn is freakin' delicious (especially when mixed with Reese's Pieces—try it next time you're at the movies—my gift to you). It's buttery, it's salty, and it evokes such awesome memories of date nights at the movies as a teenager and watching Friends re-runs with my girlfriends in the dorm. Sometimes, you just want some butter on your popcorn. But if you've ever tried to use straight melted butter on homemade popcorn before, you know it has it's issues. Namely, because butter has such a high water content, it makes the popcorn almost instantly soggy. No one wants soggy popcorn! To avoid this, movie theaters actually don't user butter at all, and use butter-flavored oils (yuck), but you can use butter at home, just as long as your clarify it first.
It sounds complicated, but clarifying butter is actually a breeze in the microwave, and it removes enough of the water to leave you with buttery, perfectly crunchy popcorn. Let me show you how I make my movie theatre popcorn at home on the stove.
First up, gather those ingredients. For a large batch of popcorn (enough to satisfy 2-4 movie snackers, or one pregnant lady who is eating popcorn for dinner), you'll need a 1/2 cup of kernels, 1 stick of butter (salted or unsalted, either works), salt, and two tablespoons cooking oil. I like to use coconut oil for two reasons. First, it's one of the healthiest oils for cooking. Secondly, many movie theaters use a coconut oil blend to pop their popcorn. It doesn't really add a coconut flavor to the end result, but it does add a layer of flavor that other cooking oils just don't quite match.
The first step in my popcorn process is actually to clarify the butter. If you have ghee kicking around (which is more or less a version of clarified butter), you can skip this part and just melt your ghee and use it straight on your popcorn. But for those of us ghee-less folks, here's how to do a quick and dirty clarification. Put stick of butter in a glass measuring cup (you'll need to the spout later).
Microwave on high for 30-40 seconds, or until the butter is all melted and foamy.
You should start to see the butter separating into three layers—foam, clarified butter and milk solids. Don't worry if the layers aren't super clear when you first take it out of the microwave, the layers will settle more as the butter cools. Plus, we're not looking for perfection here, just to get rid of enough water to keep our popcorn crunchy.
Take a spoon and skim off as much of the foam on top as you can. Again, no need to be perfect. Just get as much as you can.
You'll be left with a very clear, very yellow layer of clarified butter, with a layer of milk solids underneath. Awesome work! Set that aside.
Now onto the actual popping process. You'll want a big pot with a lid for this. Why? Well, popcorn expands (duh)! I don't recommend using a heavy pot (like a Dutch oven), because you'll need to shake the pot throughout the popping process. And man, cast iron is hard to shake.
Put your pot on high heat and add in the coconut oil.
Once the oil is completely melted, toss in your popcorn kernels.
Swirl the pot around so that each and every kernel gets a nice little coating of coconut oil, and is more or less in a single layer.
Every now and again, give the pan a good shake to mix up the kernels and keep them from burning.
Soon enough, you'll have the very exciting moment where your first kernel pops. After that, things happen quickly! Action shot.
Hurry up and put on the lid of the pot, slightly ajar to release steam, because if you don't you'll have popcorn flying all over your kitchen. I've had kernels fly 15 feet—no exaggeration. You want to save all that popcorn goodness! But you also want to make sure to release the steam, because that'll also make your popcorn soggy.
While the popcorn is popping, keep shaking the pot frequently. For the most part, the cooked kernels float to the top of the pot, which keeps them from burning, while the unpopped kernels stay at the bottom. It's a good system, and means that I almost never burn popcorn on the stove (I can't say the same for in the microwave), but it's still good to give the pot a little jiggle every now and again.
Within a few minutes, you'll hear the popping slow down to almost a crawl. Turn off the burner and just let it sit for a few minutes. Because you'll have some slow-pokes still popping. Even still, trust me, the second you take off the lid, a straggler will pop right into your eye. Not that I know from experience or anything.
You've got yourself a beautiful pot full of popcorn! Now, grab your measuring cup of butter and start to slowly stream it onto the popcorn. At first you'll see nothing but clear, bright yellow clarified butter.
But as you get to the end of the clarified part, you'll start to see that third opaque, white layer—the milk solids. Stop right then! We just want the clarified butter on our popcorn—not the milk solids. Go ahead and reserve those milk solids for something else, they're a great addition to pasta sauce, omelets and baked goods to give a bit of creaminess. Lots of folks just toss them, but I'm way too cheap frugal to do something crazy like that.
Stir up your popcorn really well to make sure every kernel gets a touch of butter.
Sprinkle on your desired amount of salt (remember, if you use salted butter, you might want to go light on the salt at first). You can also feel free to add other flavorings (garlic salt, ranch mix, etc.) during this stage—but I'm a purist.
And then go pop in a movie, get cozy and enjoy your much healthier, much tastier (in my opinion) movie theatre popcorn!
If clarifying your butter seems like an annoying step to do each time you make popcorn (it really isn't, it's probably a two-minute process), you can actually make large batches of clarified butter and stash them in the fridge for months at a time and then just melt a little bit as you need it. Because most of the water and milk solids are removed from the butter when it's clarified, it keeps for much longer than standard butter. Clarified butter is also great to have kicking around because, unlike regular butter, it has a really high smoke point. Meaning you can add lots of buttery flavor to dishes that cook at a high temperature (think: pan frying). Here is a great tutorial for making larger quantities of clarified butter on the stove. If you do want to stash your clarified butter in the fridge for extended periods of time, it's important to be a bit more persnickety with the amount of moisture and milk solids you remove than what I describe here. The tutorial I linked to recommends straining through multiple layers of cheesecloth.
Happy snacking!
What's your favorite way to eat popcorn? Butter and salt? Plain? Fun flavors?
Are we getting sick of hearing about my every-day-is-the-same morning sickness? Because I'm certainly sick of talking about it. Nothing much new to report. Still feel pretty rotten after 12pm. Still can't stand the smell of onions and garlic. Still have no desire to cook anything. Still eating an obnoxious amount of cereal. Still boycotting dinner.
One new thing (that doesn't ever make it into the photos) is that I'm finally back to drinking water regularly! For the past few months, drinking water has been pretty much an insta-catalyst for throwing up for me. So I had to be really careful to only drink some on a full stomach or just sip it with meals. Even though I tried to make up for it with watery foods (watermelon, cucumbers, etc.) and other drinks (juices, teas, etc.), I definitely was dehydrated. But as of this week, water hasn't been causing me any issues. And I am making up for lost time! I'm drinking a good 12-16 cups a day. It also helps that the water coming out of our tap is ice cold—which I suppose is probably the only benefit of the polar vortex.
Anyways, my apologies for the painfully boring eats. Maybe next week I'll have Craig photograph his eats for the day. They're so much more entertaining than mine!
I actually did switch it up a bit for breakfast and had frozen waffles! Considering I've been plowing through 3-4 boxes of cereal a week, I figured I should try reducing my two-bowls a day habit down to one. And frozen waffles are just as easy in the morning when my belly is screaming loudly for FOOOOOOOD. Alongside, I had half a grapefruit (I've been way obsessed with grapefruit lately) and a vanilla yogurt. We found these little glass single-serving yogurts and I'm in love with them! They're local, organic and actually pretty affordable (especially considering you get to keep a cute glass jar). I also had a mug of decaf coffee with coconut oil, maple syrup and a splash of cream.
Morning snack plate, which I try to load up with healthy options because I knew everything was going to go downhill after lunch. Carrot sticks, dates with peanut butter, an incredibly delicious pear, a few grapes and some cheddar cheese cubes. Plus some sparkling water with lime on the side. Baby J and I are big sparkling water fans.
Lunch was straight out of an eight-year-old's lunchbox—tomato soup with Goldfish, grilled cheese and a Pepsi. Mexican Coke has been my caffeinated beverage of choice during pregnancy (it's the only thing that knocks out the hormonal migraines I get), but the store was out, and I landed on this Pepsi Throwback in a glass bottle. It did the trick and stopped a headache in its tracks (but I'm still a Coke girl).
As predicted, I started to feel rough after lunch. Not much sounded good. A snack of kettle chips and rainbow sherbet, because: pregnant.
Go figure, dinner was a big ole bowl of cereal. This one was half honey nut O's and half chocolate O's. Topped with blueberries and bananas. A little bit later, I dug into this Chobani Flip for a nightcap. I really love all the Chobani Flip flavors (but this one is definitely my favorite).
Big thanks go out to Jenn at Peas and Crayons for hosting this fun food-filled party. If you guys haven't clicked over to the main WIAW post yet, you should! There are so many fun eats and so many new blogs to discover.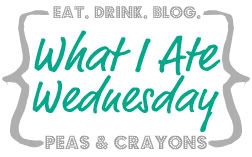 What's the best thing you've eaten so far this week?
I hope this weekend's football games got you sufficiently pumped for the Super Bowl in a couple of weeks. My beloved Colts aren't in it (sad), but the next best thing is—Peyton! Yay! Us Colts fans are also Broncos fans, in case you didn't know. Even though he hasn't been a Colt in a few years, we still love us some Peyton, especially when he makes Tom Brady cry.
Actually, not having my team in the Super Bowl is nice because it means instead of stressing about the game, I can focus on the food! You all know how much I love cooking game day food.
I already shared with you guys one, totally awesome healthy Super Bowl recipe earlier this month (these Lentil Enchilada Wonton Cups), and I have another goodie to share with you guys today—veggie pizza squares.
This cold pizza has roots in my childhood. Growing up, my parents always threw a big, rager of a 4th of July party every year for all of our friends and family (think 50+ people pitching tents all over the property and spending all weekend drinking, eating and swimming). And one of our family friends always made a big batch of veggie pizza for us to snack on during the weekend. It was a crowd-pleaser. It even satisfied the veggie-hating kids at the party.
The original version uses canned crescent rolls as a crust and a ton of cream cheese and sour cream for a sauce (hence why the kids would tolerate the veggies), but my version has a homebaked multi-grain crust and an herbed sauce that is lighted up thanks to my beloved Greek yogurt. It's just as yummy, but even healthier!
For a crowd, I like to pre-cut this pizza into easy-to-grab squares. It looks so beautiful on a platter (especially when it's up against all the brown-colored food that is typical of the Super Bowl buffet), and I think it's a fun alternative to your standard veggie and dip tray. Trust me, no one will miss the dried out tray from the grocery store if you've got these flavorful squares in your offering.
You can mix-and-match whatever raw veggies you like for your topping. Here, I used a combo of cauliflower, cucumber, carrots, plus yellow and red tomatoes. This is a great mixture of textures (crunchy, smooth, watery) and flavors (sweet, tart, mild), plus it's a whole rainbow of pretty colors! Other options: sliced green onions, chopped broccoli, sliced olives, chopped celery, sliced bell pepper, corn kernels—anything!
The best part of this game day recipe—you can make all the components ahead of time and just assemble it right before kick-off. In fact, the longer the sauce sits and melds, the more flavorful it gets. So go ahead, bake up the crust, mix up the sauce and chop your veggies the day before the game. Then just assemble and cut right before your guests arrive. I'm definitely not one of those game day hosts who wants to spend her time in the kitchen while everyone else is enjoying the game. I want to get a chance to enjoy the game, too! And a make-ahead recipe like this makes it easy to cheer along right with your guests.
I've still got a few more game day-friendly recipes to share with you before the big game, so don't go finalizing your menu quite yet (trust me, you don't want to miss 'em).
Go Broncos!
Veggie Pizza Squares
Prep Time: 2 hours 45 minutes | Cook Time: 20 minutes | Makes: 24 squares
Ingredients
For the Crust
2 cups whole wheat flour
1 cup all-purpose flour
1 teaspoon kosher salt
1 teaspoon baking powder
2 teaspoons yeast
2 sticks butter, chilled and cut into chunks
1 1/3 cup lowfat, plain Greek yogurt
For the Sauce
1 cup softened cream cheese
1-1/2 cups lowfat, plain Greek yogurt
1 teaspoon dried dill
1/2 teaspoon garlic powder
1/2 teaspoon kosher salt
1/2 teaspoon black pepper
1/2 cup ranch dressing
1 teaspoon lemon juice
For the Toppings
3 cups chopped veggies (cauliflower, cherry tomatoes, carrots, broccoli, celery, cucumbers, bell peppers, etc.)
3 tablespoons finely chopped fresh chives
Instructions
In a large mixing bowl, whisk together the flours, salt, baking powder and yeast. Cut in the butter pieces using forks or a pastry blender, until the pieces are about pea-sized. Add in the Greek yogurt and mix until the dough just comes together.
Dump the dough out onto a floured surface and knead a few times to bring the dough together. Spread or roll the dough into a rectangle about the size and shape of a large baking sheet. Place in a greased baking sheet, cover with greased plastic wrap and let rise in a warm area for about two hours. The dough won't rise much (it should just get a touch puffy). Toward the end of rising time, preheat the oven to 375°.
When rising time is finished, remove plastic wrap, and bake crust in preheated oven for 15-20 minutes, or until the crust is golden brown. Set aside to cool.
Meanwhile, mix together all the sauce ingredients, set aside.
To assemble the pizza: spread the sauce on a completely cooled crust. Evenly spread on veggies and sprinkle with chives. Cut into 24 squares before serving.
Note: if you prefer, you can use two cans of crescent rolls (they sell mutli-grain ones now). Just open the cans, spread onto the baking sheet and bake per directions on the can. Let crust cool and continue with sauce and toppings.
Who are you rooting for in the big game?
This salad makes me hopeful.
Not only did I make this salad this weekend (including chopping the peppers and green onion without gagging), but I also ate this salad. And it tasted good! And I didn't even need to pick out the red peppers or the green onion to enjoy it. I ate healthy veggie-filled food! It's a damn miracle. Maybe, I've turned the corner on the evil morning sickness monster. Maybe, my food aversions are fading away. Maybe, I can start sharing more interesting recipes again.
*knocks feverishly on wood*
We've been eating a lot of chicken salad in our house lately. In fact, we've been eating a lot of all kinds of ready-to-eat salads (tuna salad, egg salad, etc.), because it's so easy to make up a big batch and then just eat on them all week-long. My body is still mostly boycotting dinner—well, other than bowls of cereal and PB&J sandwiches—so getting something a little more substantial for lunch is a necessity for me. Plus, it gives Craig something that's easy to grab when he is ready to eat some dinner.
This is such a fun twist on your typical chicken salad. Usually, chicken salad is mostly chicken, with some other stuff tossed in. In this particular salad, the chicken works in harmony with tons of other delicious (and good for you) items—thinly sliced Napa cabbage, shredded carrots, julienned red peppers, chopped cashews. It all comes together to make this amazing collection of flavors and textures that is totally different from the chicken salad you're used to. Adding all these extra veggies is a great way to stretch a few cups of cooked chicken out—instead of four servings that two cups of chicken might cover usually, this salad easily will serve 8-10.
The nutty, rich dressing for this salad uses a few tablespoons of cashew butter. If you've never used cashew butter, it's available nowadays at most grocery stores near the peanut butter (I think even Jif makes it now). And it's crazy delicious. But cashew butter ain't cheap, and if you don't plan on using it for anything other than this salad, I can't, in good conscience, ask you to shell out $8 for a tiny jar. Instead, my suggestion is to buy a bag of raw cashews and make your own cashew butter (which is easy peasy if you have a food processor or a high-speed blender). You'll need the cashews for the salad anyway—just pick up a bit extra.
Craig ate this salad atop of a bunch of salad greens. Since I'm still sans-salad greens, I ate mine straight-up. We'll probably serve up leftovers on rye crisps, with crackers and maybe even on toasted bagel if we're feeling crazy.
Because this could easily be considered a slaw (that happens to have chicken in it), you could also serve this as a side dish. Heck, you could even leave the chicken out completely and serve it as a side dish to these sticky chicken drumsticks (and then invite me over, please).
Hopefully this the first of many regular recipes coming back into the rotation. Everyone please send lots of anti-morning sickness vibes my way. Keep the monster away!
Enjoy.
Cashew Chicken Salad with Mandarins
Prep Time: 30 minutes | Cook Time: None | Makes: 8-10 servings
Ingredients
For the Dressing
1 tablespoon sesame oil
1 tablespoons olive oil
1 tablespoon rice wine vinegar
3 tablespoons cashew butter
Juice and zest of one lime
2 tablespoons finely minced fresh cilantro
2 teaspoons honey
Salt and pepper, to taste
For the Salad
1/2 head Napa cabbage, shredded or sliced thinly
2 cups chopped cooked chicken
2 green onions, sliced
1 cup shredded carrots
1/2 cup julienne red bell pepper (about 1/2 large)
1 cup Mandarin orange segments (canned or fresh)
1/2 cup roughly chopped cashews
Instructions
In a small bowl, whisk together all the dressing ingredients until smooth. Set aside.
In a large mixing bowl, combine all the salad ingredients and toss until well-mixed. Pour the dressing over top, and toss to coat. Serve immediately, or let flavors meld for 30 minutes in fridge for best flavor.
Did anyone out there do any

food prep

over the weekend? What'd you make?