We're getting to the end of our two-week grocery shopping cycle, and that means the fresh produce in our house is down to a bare minimum. I usually like to try to get more fresh veggies in a day, but this day wasn't so great on that end. Thankfully, today is grocery shopping and CSA day! Plus, our garden is starting to show signs of life. Woohoo! Soon we'll have fresh veggies whenever we want some.
When I edited all these photos, I realized that it doesn't look like I ate all that much yesterday (which is weird, because I never really felt hungry). So I checked in with my calorie counts, and all this together was almost 1900 calories. Looks can definitely be deceiving! I blame my monster, protein-packed smoothie.
Warmer weather means I am all about smoothies lately. In this one: almond milk, ground flax seed, chia seeds, mixed berries, a frozen banana, a few ice cubes and a tiny splash of maple syrup.
I grabbed an apple for a morning snack. Do apples make anyone else hungrier? They always seem like a good snack idea. Tasty. Easy to transport. Handheld. Full of good-for-you-stuff. But within about 10 minutes of eating an apple my tummy is always grumbling for more food.
I wanted to get out and mow before it got too warm out, so lunch wasn't really a lunch-y lunch, and more a collection of snacks—a banana, a Blood Orange Chobani (my second favorite flavor, behind Pineapple) and two Peanut Butter Date Bites.
Dinner was cheddar quinoa and shrimp. I love that recipe. It's so delicious and comforting, and it comes together in about 12.5 minutes. Which is really awesome for days like this, when Craig doesn't get home from work until almost 8pm.
Dessert was the world's best flourless black bean brownies. Actually, these might be the best brownies I've ever made. They are insane, guys! It's a recipe for the Anytime Health blog, so keep an eye out over there for them soon.
As always, big thanks go out to Jenn at Peas and Crayons for hosting this fun food-filled party we have every week. If you guys haven't clicked over to the main WIAW post yet, you should! There are so many fun eats and so many new blogs to discover. You could lose a handful of hours just discovering new friends and foods!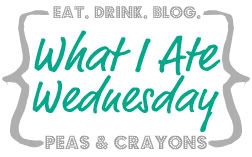 What's the best thing you've eaten so far this week?
Looking at this menu, and looking at the sunshiny day outside has got me thinking two things—1) we really need to get the gas tank filled on our grill and 2) I really need to put some more grill meals on the menu next week! I love grilling so much (if I'm being honest, it's mostly because I don't have to clean up the kitchen afterward). So this is the last week of winter meals!
As always, if you'd like to refer to this post throughout the week, you can by clicking the big, honkin' button in my sidebar for this week's menu.
Onto this week's eats…
Breakfasts
Lunches
Snacks
Dinners
What's on your menu for this week? Any new recipes you're trying out?
A few weeks ago, Craig and I watched Forks Over Knives. I'm kinda food documentary obsessed, so I was totally into it. Actually, whenever I find myself slipping with my healthy food lifestyle, I like to pop on one of the gazillion food documentaries on Hulu and it really helps reaffirm my whole foods lifestyle.
Now, of course, all of those documentaries are propaganda—not journalism—and should approached as such. I like to take them with a grain of salt and do my own research before I go and change my diet to 100% kale juice and tree bark just because some guy said so in a voice over some B-roll of a happy family playing in a field of daisies. But even though I'm decidedly…skeptical…about the things that are said in these documentaries, they do always get me thinking.
If you haven't seen or heard of Forks Over Knives, it's basically selling what they call a "plant-based diet" (AKA: veganism) as a great way to live a healthy life. Included are lots of stories about folks who were sick (mostly with cardiac issues, diabetes, high blood pressure, etc.) and when they transitioned to a whole foods, vegan diet, many of their diseases disappeared or at least diminished. Cool! Whatever works to get people healthier is totally awesome in my books.
But, personally, I still eat animal products, and don't plan on changing that—even after watching FOK. That being said, what FOK did do for me is start to reevaluate some spots in my diet where I could maybe think about leaning more heavily on plants. If I'm being entirely honest, even though I've been trying to cut back on meat for years, I still use it (and other animal products) as the cornerstone of my meal planning. It takes a lot of effort and thought for me to make sure we have meatless meals in our menu each week. I guess that's just engrained in my mind (and our culture here in the States). Sometimes, it's still hard for me to feel like I'm eating a "real" meal when it's meatless. And I'd much rather live a life where animal products are an accent in my diet rather than a main pillar. For me, when I eat that way, I feel my healthiest, strongest and my grocery budget is at its happiest.
So what does this have to do with chocolate cupcakes? Well, I was perusing the Forks Over Knives website to get some creative recipe ideas and stumbled onto this little dose of genius—Double Chocolate Cupcakes with Date Frosting. I was totally in disbelief that you could make frosting out of dates. It was the same feeling I had the first time I heard about banana soft serve. Mind. Blown. Maybe this is something that is common knowledge in vegan communities, but for this carnivore, date-based frosting is pretty much the most insane and awesome discovery on the planet. What other crazy cool secrets are you vegans hiding over on the cheese-free side? Share your wealth of creative plant-based goodies with the rest of us!
I changed up the method and ingredients a little bit, but the end result was still an incredible, fudgy, frosting masterpiece! All made without a drop of refined sugar or dairy. This is no buttercream (drool.yum.) but it is an awesome alternative to your normal cake shop frosting. If you've ever made a ganache before, it's almost the same consistency as that, and the flavor is 100% chocolatey-goodness. Considering it's made with dates, you'd think it'd be a little gritty, but it actually turns out incredibly smooth, spreadable and creamy. I'm pretty much in love with this stuff!
Enjoy!
Fudgy Dark Chocolate Date Frosting
by Cassie Johnston
Prep Time: 3 hours | Cook Time: None | Makes: About 2 cups of frosting
Ingredients
2 cups Medjool dates, pitted
1 cup boiling water
1/2 cup unsweetened cocoa powder
1 teaspoon vanilla extract
Pinch salt
Instructions
Place the dates in the basin of a blender, or in a tall, narrow container if using an immersion blender. Pour boiling water over dates and let sit for 10-15 minutes or until the dates are very soft.
Blend water and dates on high until very, very smooth. Add in the cocoa, salt and vanilla and blend until well-mixed.
Chill the frosting until completely cool (about 3 hours) before spreading on cupcakes.
Nutritional Info
Serving Size: About 2 tablespoons | Servings Per Recipe: About 16
Do you like food documentaries? Which one is your favorite?
A few weeks ago, when I posted about my weekly food prep routine, I briefly mentioned that I like to make salads-in-a-jar each week. Apparently, you all are super interested in my jarred salads because I got so many comments and emails requesting more info!
Now, let me note, I am in no-shape-way-or-from the originator of this idea. I've seen it pinned from numerous sources in the holy land of Pinterest. I'm creative, but not nearly clever enough to come up with this one on my own. But I am smart enough to know a great idea when I see it and latch onto it! If any of you happen to know who the original genius behind these salad jars is, let me know, because I'd love to bow down to them give them the credit they deserve.
I have four of my favorite combos to share with you guys today, but before I get to those recipes, I thought maybe I'd give you a quick primer on the things I've learned in my jar-making experience:
Below you'll find four of my favorite combos, but it should be said that I'm much more apt to "freestyle" my salad jars each week. I mostly use whatever we have leftover in the fridge—it's a great way to use up that 1/2 cup leftover quinoa from dinner three nights ago. They key is finding dressings that you really, really love, because that dressing will flavor everything in that jar. Experiment and figure out what works for you and your family.
Onto the combos…
Strawberry Spinach Salad with Strawberry-Lime Vinaigrette
This is one of my absolute favorite salads—in a jar or out. The sweet strawberries are a beautiful pairing with the creamy and tangy feta. I mixed up a super quick and easy strawberry-lime vinaigrette to flavor the whole thing. I used protein-packed quinoa and crunchy sunflower seeds, but you could easily sub in your favorite grain and seed.
To make this salad, in the jar, put items in this order:
Depending on how juicy your strawberries are, you might want to put them down lower in the jar (before the quinoa) to keep them even further away from the spinach.
Mexican Chickpea Salad with Chile-Lime Dressing
Oh man, this one is so flavorful and delicious! The salsa really makes this salad shine, so make sure to use something you love. I really like the texture of chickpeas in this salad (and they hold up really well to the dressing) but you could easily sub in black beans, kidney beans or lentils and get the same kind of nutrition and flavor profile.
To make this salad, in the jar, put items in this order:
Because of the tomatoes and salsa, this salad is a bit "wetter" than others and care should be taken not to tip it or turn it to avoid the romaine getting soggy.
Tofu Living Salad with Sesame-Lemon Dressing
You've seen the big version of this salad posted here before, but with a few tweaks and additions, it makes an awesome salad-in-a-jar. The flavors of this salad (and specifically, the dressing) are definite favorites in our house. Yum!
To make this salad, in the jar, put items in this order:
Small cubes of firm tofu act like little protein-packed sponges soaking up all the dressing goodness. Not into tofu? No problem. Shelled edamame would work great as a replacement.
Sunshine Salad with Orange Marmalade Vinaigrette

The original Sunshine Salad recipe is one I made for my friends over at Anytime Fitness, and I loved it so much that I decided to turn it into a salad-in-a-jar for everyday eating.
To make this salad, in the jar, put items in this order:
I use fresh clementine wedges, because I always seem to have them kicking around, but you can just as easily use canned mandarin slices—just make sure to drain them well before adding to the jar.
Like I said, these are just four of millions of possibilities! Let your imagination run wild. Just as long as you keep the wet layers away from the greens, your creation should be incredible! This might even be a fun way to get kids excited about eating their veggies. You can use smaller-sized jars (like jelly jars), set up a salad jar bar, and then let them assemble their own delicious, nutrient-packed creations.
Happy jar-making!
What's your favorite salad combo? Do you have any go-to dressing recipes to share for folks to try in their jars?
Cauliflower is one of my favorite veggies. Whenever there is a veggie tray around, I always gravitate to those sweet, crunchy little trees of yumminess. Raw cauliflower is even one of my favorite road trip snacks. I tend to be a boredom snacker, and big bags of raw veggies (specifically raw cauliflower) are a great way to munch on the road without eating thousands of calories worth of junk. In fact, I think I probably ate a whole head of cauliflower by myself on our drive down to Florida last year. Yum!
This dish is one of my favorite ways to use my favorite veggie! If you're craving macaroni and cheese, but aren't 100% ready to dive headfirst into a bucket of refined carbs, this casserole is a great substitute. Chewy, hearty, whole grain farro is mixed with tender cauliflower florets and then smothered in a gooey cheese sauce made with skim milk. The whole casserole is sprinkled with breadcrumbs and then baked until bubbly, browned and insanely delicious.
You could serve this as a great side dish for Sunday dinner (or supper, if you prefer) or, if you're really craving some comfort food, pile a big heap of this into a bowl, crawl up on the couch infront of your favorite movie and enjoy it as a main dish.
If you're not into cauliflower (gasp! shock! awe! horror!), you can easily use the cheese sauce in this recipe for any kind of veggie yumminess. It'd be delicious over broccoli, and this is also the cheese sauce I use when I make scalloped potatoes. Yum!
Enjoy!
Cheesy Cauliflower and Farro Bake
by Cassie Johnston
Prep Time: 20 minutes | Cook Time: 30 minutes | Makes: 4 Servings
Ingredients
1 cup farro
2 cups vegetable broth
1 head cauliflower, cut into bite-sized pieces
2 tablespoons butter
1 small onion, diced
1 clove garlic, minced
2 tablespoons all-purpose flour
2 cups skim milk
1/2 cup freshly-shredded fontina cheese
1/2 cup freshly-shredded sharp cheddar cheese
Salt and pepper, to taste
1/2 cup panko breadcrumbs
Instructions
Preheat oven to 350°.
In a medium saucepan, combine the broth and farro over medium-high heat. Bring to a boil, reduce heat and simmer until the liquid is absorbed and the farro is tender, about 10 minutes. Set aside.
Meanwhile, bring a large pot full of water to a boil, add cauliflower florets and cook until fork tender, but not mushy, about 5 minutes. Drain and set aside.
While the farro and cauliflower are cooking, in a small saucepan melt the butter over medium heat. Add in the onion and garlic and cook until tender, about 5 minutes. Whisk in flour and continue to whisk constantly for 2 minutes. Slowly pour in the skim milk while whisking. Bring to a simmer and cook until thickened enough to coat the back of a spoon, about 7 minutes. Remove from heat and whisk in the cheeses, salt and pepper.
To assemble casserole stir together farro, cauliflower and cheese sauce until everything is well-coated. Pour into a casserole dish and then sprinkle top with breadcrumbs. Cover with aluminum foil.
Bake in preheated oven for 30 minutes, removing the foil during the last 10 minutes to brown the breadcrumbs.
Nutritional Info
Serving Size: About 1 cup |  Servings Per Recipe: About 4  
What's your absolute favorite veggie?
Now that I'm sharing my weekly menus, a few folks have asked to see a sneak peek into what a grocery store trip for me is like. I did one of these posts a while back, but a lot has changed since then—namely, we've moved since then! And, even though we moved out into the middle of nowhere, our somewhat-close-by grocery shopping options expanded lots when we got here. Within 45 minutes, we have a Whole Foods, Trader Joe's and tons of other shopping options.
I do a "big" grocery shopping trip once every two weeks and then, weekly, we get a fresh infusion of milk, eggs and produce from our CSA. It may sound crazy, but because I only go grocery shopping a couple of times a month,  I usually hit up at least three (and sometimes more) different stores. There are just certain things that I like—and are much cheaper—at certain stores. Like, you can't beat the prices on organic frozen veggies at Trader Joe's, but their fresh produce is kinda iffy (at least at our location). But Whole Foods' fresh produce? To die for.
This shopping trip, I did the majority of my shopping at Whole Foods (my happy place) plus a little bit at both Trader Joe's and my favorite supermarket, Meijer. Sometimes, for speciality items, I'll also hit up our local health food store—Rainbow Blossom. But I didn't have anything to grab there this trip. Unfortunately, as much as I'd love to support local business, the prices are so high there that I just can't justify doing a lot of shopping there. But it is great for local goodies.
Alright, onto what I did get this trip.
Produce
Like I said, Whole Foods is my absolute favorite spot for produce. I can almost always guarantee everything I need will be in-stock, high-quality and organic. It's definitely a little more pricey, but it's worth it for me. Here's what I got in the Whole Foods produce section. Everything is organic unless otherwise noted.
Romaine

Carrots—a big bag! We eat carrots all the time.
Parsley
Sliced Mushrooms
Strawberries—Whole Foods is pretty much the only place I can find organic berries in the area.
Cucumbers
Blueberries
Cauliflower–they were out of organic, so this is conventional.
Celery
Green Peppers
I popped over to Trader Joe's (it's literally within walking distance to Whole Foods) and picked up a few produce items that I knew I could count on.
Pears—I swear, this is the best deal on pears on the planet. $3 for a whole bag of organic pears? Some places, you pay $3 for one pear! These are the perfect little guys for lunches and snacks.

Apples—Same deal for the apples. Cheapest place to buy small organic apples. Perfect for snacking and lunching.
I don't buy a ton of produce at Meijer. They have an incredible produce section—but the vast majority of it is conventional. Here is what I got there.
Potatoes—for some reason, I never buy organic potatoes. I'm not sure why? I guess just out of habit. We're planting a ton of potatoes in the garden this year, so maybe this will be one of the last bags I have to buy for a while.

Garlic
Bananas—I couldn't find a single organic banana at any of the stores! Apparently the Chiquita banana lady decided to skip Louisville this week. So I got conventional instead. About 2/3 of these will go in the freezer for smoothies.
I also pick up our CSA on grocery shopping days. In our produce box this week:
Ramps

Sweet Potato
Cilantro
Radish Microgreens
Kohlrabi
Lettuce
Spinach
Meat & Dairy
We get the majority of our meat and dairy from our CSA and Trader Joe's, but I did pick up a few things at Whole Foods:
Butter

Almond Milk Yogurt—not really dairy, but I've been meaning to try this.
Shrimp—I love, love, love the scoop-your-own shrimp at Whole Foods. We only needed a little bit! Perfect.
It's hard to beat the prices on cheese and meat products at Trader Joe's. Here's what I got:
Sliced Turkey

Cheddar Cheese
Feta
Bacon Pieces—We hardly ever eat full slices of bacon—we use it much more for flavor in dishes—so these ends and pieces are such a great deal. This package is about $3 cheaper than whole slices. Woohoo!
Plain Yogurt
Andouille Chicken Sausage
Parmesan
From our CSA, we get this each week:
Eggs—we go through two dozen eggs in a week 

no problem. We love eggs!

Skim Milk—for drinking.
2% Milk—for making kefir or yogurt.
Cheeses—we get two random cheeses each week in our CSA, this week it was Monterey Jack and Mozzarella
Bulk
Whole Foods also has the best bulk section! In bulk, I got:
Kidney Beans

Raw Cashews
Chia Seeds
Sunflower Seeds
Medjool Dates
Grocery
For some items, Whole Foods totally lives up to the "Whole Paycheck" moniker, but I think there are some really good deals to be had, too.
Cereal

Whole wheat and white flour—this is from a local mill and it's awesome!
Freekeh—because Oatmeal Lauren (<3) told me I had to try it.
Beer—we like to snag some new fun beer to try when we go shopping.
Unscented Dr. Bronner's—You can't beat the Dr. Bronner's price at Whole Foods. We use this for everything—hand soap, body wash, laundry detergent, dish soap.
Pasta
Rye Crisps
It's hard to beat Trader Joe's for staples. The price is right and the quality is great! A lot of times their speciality items might not be in stock, but you can pretty much always guarantee they'll have the standards.
Olive Oil Cooking Spray

Chicken Broth
Peanut Butter
Frozen Green Beans
Frozen Broccoli
Hamburger Buns
Farro
Marinara Sauce
Tortillas
Pitas
Tuna
Olive Oil
Ketchup
I hit up Meijer for more standard staples.
Almond Milk—Meijer is definitely the cheapest place to buy unsweetened almond milk. I can get a big container of it for the price of one small container at Whole Foods (and TJs doesn't sell unsweetened almond milk).

Raisins—the best raisins in the whole wide world. If you can find these, BUY THEM.
Worcestershire Sauce
Mrs. Dash Italian—Adds so much flavor to salads and pizza.
Tortilla Chips—I'd love to buy organic/natural ones instead, but I can't find any natural scoops! And I love the scoops!
We get some standard grocery staples in our CSA each week too:
Whole Wheat Fettuccine—we get this each week. It's such a nice option for a quick dinner.

Whole Wheat Pizza Dough—we get this each week, too. It's so much quicker and easier to just defrost this dough ball for pizza night. And it's delicious and local!
Black Bean Hummus—they threw this in as a bonus this week! Yum!
Now ready for the grand total? All together I spent:
$295.22
That includes my receipts from Whole Foods, Trader Joe's and Meijer, plus this week's CSA payment. We'll pay another $50~ or so next week for our next CSA box. And then, in a couple of weeks, I'll go out again for another largeish shopping trip (although, probably not as big as this).
We don't eat out (really, ever), so this is enough food to cover us for every meal for the next two weeks, at least. That boils down to about $3.50 per meal per person not including snacks or our next CSA box.
In total, we try to keep our grocery budget around $600-$700 a month, but sometimes go over that, and we try not to worry too much about it. For the longest time, we tried to wedge our grocery budget into a smaller number—like $300-$400 a month. But we decided a while back that good, local, organic food was important to us, and we were willing to pump more money into it. I know folks tend to look at their grocery budget as the first place to cut when they need to tighten their belt, but for us, getting good food is just as important as paying the mortgage and the electricity bill. We'll give up cable (oh no!) and our iPhones (double oh no!) before we cut back on our grocery budget. My Papaw always said that if you want to know what's important to a person, just look where they spend their money. And if someone looked at our bank account, they'd see that food is definitely important to us.
What's your favorite place to grocery shop? How much do you tend to spend on groceries each month?