–Entries on this contest are now CLOSED. Thanks for participating!–
As we chatted about yesterday, Thanksgiving is coming up at a super rapid clip and boy, do I have a kitchen gadget to give away today that will make your life so much easier! The amazing folks at BigKitchen.com are partnering with BTHR again to give away a few awesome things this holiday season (stay tuned for another cool giveaway from them at the end of November).
To celebrate Thanksgiving, BigKitchen is giving away this super pimped-out, heavy duty, ass-kicking Endurance potato ricer. Never used a potato ricer? Well, it's the key to pretty much the smoothest, silkiest, easiest mashed potatoes of your life. It's basically a ginormous garlic press. Stick a cooked potato in, out comes fluffy, smooth mashed potato just asking for some butter, cream and a hefty dose of salt (please don't undersalt your potatoes).
I used my potato ricer at Canadian Thanksgiving this year and it made super quick work of potatoes for 12 people. What would normally take some serious mashing time was done in a minute or two, and the results were totally lump-free and super smooth.
I'm not a big fan of kitchen unitaskers, and a while a potato ricer is meant to help with spuds, it has a million other uses. Need to squeeze out that frozen spinach? Put it in the potato ricer. Want to make gnocchi? The potato ricer is where it's at. You can use it to puree almost any soft food (tomatoes, pumpkin, anything!) without any electric power.
If you can't tell, I'm a big fan of my potato ricer. Ready to win one?
PRIZE: One Endurance Jumbo Stainless Steel Potato Ricer
TO ENTER: Comment on this post and tell me what you add to potatoes to make the perfect mashed potatoes.
GIVEAWAY CLOSES: Tuesday, November 13th, 2012 at Noon (12pm) EST
NUMBER OF WINNERS: One
ELIGIBLE FOLKS: Sorry, international readers, this one is for U.S. Residents, aged 18 and over only. I try to snag as many international giveaways as a can. Maybe next time!
WINNER ANNOUNCED: Wednesday, November 14th, 2012 on this here post!
LEGALESE: To enter you must be 18 or older. Winner will be chosen by random drawing from the pool of comments on this post. To be considered for the prize, you must provide a valid email address. One entry per email address. Once a winner is notified and verified, BigKitchen will be provided with the contact information of the winner and they will be responsible for  prize fulfillment. The number of eligible entries received determines the odds of winning. To enter, leave a comment on this post. No purchase necessary to win. Entries will close on Tuesday, November 13, 2012 at noon (EST). The winner will be contacted by email on or before Wednesday, November 14, 2012. If the winner does not claim the prize within seven days, the original winner forfeits the prize and a second random entry will be chosen from the pool. This contest is sponsored by BigKitchen of Florida and is void where prohibited by law.
DISCLOSURE: In exchange for this blog post, as well as posting this giveaway, I was compensated with a potato ricer. My review of the product was not biased or influenced in any way by this compensation.
WINNER! We have a winner! The winner is Lisa E. who is makes her mashed potatoes cream cheese and garlic powder. YUM! Congrats, Lisa!
Phew! I've been M.I.A. for the past two days because Babyface and I have been busy turning this:
Into this:
We live in a smallish two-bedroom apartment and our second (larger) bedroom has always been a bit of a dumping ground. Originally it was a craft room/office. And then there was a photo studio in there. But then that got ousted when we cancelled our gym membership and needed a place for our home gym. And then we stopped crafting so much. And the closet became our main place for storage. And all these combined turned the room into complete dysfunction.
Basically, I avoided the room at all costs because just being IN it stressed me out. And yes, that included avoiding our gym equipment.
Which now looks much, much more worthy of my time.
Now that Babyface and I are both doing a lot more photo editing, we figured we should set up a dedicated office space and move out the crafting stuff elsewhere. Now there is spilt office/sewing table.
But all the craft stuff goes on the opposite wall with a standing-height cutting table. Plus a robin egg blue peg board to get all of the utensils out of drawers. Swoon.
Protip: Don't give yourself a manicure the day before you are going to spray paint something.
And then the closet. It looked like this before. So much stuff in it, that we couldn't even get the doors open to put the new things it in that needed to be stored (like my new, awesome, orange luggage).
And yes, that is literally, a skeleton in our closet.
Ahhh, much better!
And yes, that TV works! Perfect for watching trashy MTV shows while working out, but can be easily hidden away.
Plus, since we are spending more time in here, we added a comfy chair.
Puppyface likes it.
My favorite part about all of this is that we did it for under $100. Even the chair was only $30. The main (free) difference? We threw out 7 bags of trash and have a giant (GIANT) pile headed to the Goodwill. Purging feels so good. It got a lot worse before it got any better.
We found all of these writing utensils in this room. Apparently we hoard pens, pencils and markers.
And now, I need a nap.
So, guess what?
I ran 10 miles yesterday. In fact, due to a little miscalculation (more on that later) I actually ran closer to 11. 10.84 to be exact.
And I entered double-digit mileage with a smile on my face!
It was like a whole new world compared to my problem-ridden 8 miles. This was the first time that I really, truly felt confident that I'll be able to complete my half marathon without worries. It is nice to be able to safely say, "I can do it" and feel confident that statement is true.
I started off relatively early for this run. I woke up at 7am, got out of bed, and had some water, toast with peanut butter, honey and banana and some coffee.
While eating my breakfast, I checked the weather. Clear, sunny and a 16° wind chill. SERIOUSLY, SPRING? So I bundled myself into my running gear from February and set out to the trail.
Apparently no one else was interested in running on a cold, cold spring Sunday at 8am, because the parking lot was empty.
While I was in good spirits, I knew from the second I stepped my foot on the parking lot pavement that my peroneal tendon was not going to make this easy. I had rolled my ankle a few weeks ago walking Puppyface and thought the pain in my foot/ankle was pretty much gone. I was wrong.
I had mapped out a course that had me running a mile spur out and back before I made the long out-and-back on the entire length of trail. Since my foot was hurting, I decided I'd warm up with the mile spur and then try to do at least 5 miles total before making a decision.
Since I've been trying to heal my foot, I haven't been running much in the past two weeks and I felt like this was a really, really important run in my training. I didn't want to skip it completely. I felt like 5 miles would at least help keep my conditioning up to par.
So I started off the first mile and, truthfully, I was in so much pain that I came close multiple times just to walking back to the car. During that first mile, the pain was a 7. But then as I warmed up, it diminished down to a 6. I finished the mile spur and joined up with a dirt trail, determined to get at least 3 miles in.
SWEET GLORIOUS DIRT.
It was like running on pillows. Within 1/2 mile, my foot pain had dropped to a 2 and was barely even noticeable. My original course had me doing 4 miles total on dirt and 6 on pavement. Thanks to well-marked trails (thanks City of Bloomington), I did some math and figured out how many laps I'd have to do to stay on dirt.
So back-and-forth I went. I much prefer doing an out-and-back instead of laps, but the soft, cushy dirt was totally worth the boredom.
After the fueling-failure of my last long run, I made sure to stay on top of everything. I took two dates every two miles and made sure to sip on water through the entire run. Every time I took fuel, I'd walk a bit and stretch out my foot.
My stomach felt totally fine for the entire 10 miles. Here is what I think made the difference:
Adequate hydration the day before, morning before and during the run.
A well-balanced, but large meal for dinner the night before (all my good runs have come on the mornings after I was totally stuffed at dinner the night before).
Smaller cup of coffee in the morning.
Taking fuel early and often during the run. Not waiting until I crash.
Of course, I did get mega, mega tired during the last mile. I walked more than I would have liked, but that edge was softened when I realized I am terrible at math on the fly and actually ran almost a mile longer than I needed to. But hey, I finished it! And I didn't feel like hell at the end!
Random picture of a horse farm along the trail, go!
I did finish up my run by doing something that I think officially initiates me into the club of "real" runners.
An ice bath!
Errr….ice bucket.
As nice as the soft dirt was for my foot, after 10 miles, it was screaming. I knew it needed to be dunked.
After the initial shock, it actually felt amazing. My foot was so hot and throbbing that the ice felt so nice. And I can say, it helped SO much. I was almost positive it was going to be hard to walk today, but I only have a mild ache in my tendon.
Ice works! And it makes for funny pictures.
Next long run is a 15k in two weeks and then after that a 12 miler and then…race day! Woohoo! Almost there.
I use to really not love soups with broccoli in them.
To me, they mostly tasted like someone cooked the beejeebus out of frozen broccoli and then pureed it with milk-colored water. They reminded me of broccoli, but really didn't taste anything like the little bright green trees I love.
But this. This is something special.
This has cheddar and potatoes and is pureed into something so smooth and creamy, you'll never believe it is creamless.
This is perfect for the winter that we are currently experiencing. The winter that seems like it'll never end. Soups like this almost make me want winter to stick around.
Almost.
Broccoli, Cheddar and Potato Soup
(adapted from Gina's Skinny Recipes)
1 small onion
2 carrots
2 celery stalks
2 cloves garlic
1 tbsp butter
2 tbsp flour
2 1/2 cups chicken broth (or vegetable broth)
1 cup skim milk
2 medium potatoes, peeled and diced small
salt and fresh pepper
4 cups (about 2 heads) broccoli florets, chopped into small pieces
1-1/2 cups shredded sharp cheddar
Chop onion, carrots, celery and garlic finely (or use a food processor). Heat butter in a dutch oven over medium heat. Add veggies and saute until tender and water is cooked out. Sprinkle with flour, stir and cook 2 more minutes. Stir in chicken broth and milk. Bring to a boil, reduce to a simmer and add potatoes. Cook until fork tender, about 10 minutes. Add broccoli, cover and cook until broccoli is tender. Blend with an immersion blender until smooth. Remove from heat, stir in cheddar until melted and serve.
This one is really, really easy. Especially with the use of some (not so) heavy machinery. Use your food processor to chop all the veg. Go ahead and pulverize it. You are going to puree everything later anyway.
Heat butta in a soup pot.
Saute the veg in the butter until tender and the water has evaporated. Sprinkle with flour.
Stir well and cook for a few minutes just to cook the flour taste out. If you used your food processor, this should be a paste-y, gloupy mess. Stir in the broth and milk.
Bring to a boil, reduce to a simmer and add the potatoes.
Cook for 10 minutes, or until fork tender. Add in the broccoli.
Cover and let cook until the broccoli is pretty soft.
And then go at it with an immersion blender. You could also puree in batches in a blender.
Once it is a beautiful green, remove from heat and stir in the cheese until melted.
Serve topped with more cheese, if you are feeling particularly daring.
I have a thing for vegetable-based soups that are actually really, really light. This soup is under 300 calories per serving and packs a really nice veggie and nutrient punch. It is always nice to have a bowl of creamy soup and know you are actually eating something that is great for you.
Pizza of the week:
Cheese, baby! And boy was it delicious.
Best thing I ate or drank this week:
Portabella cheesesteaks for dinner last night. If you haven't made these yet, get to gettin'.
Best workout of the week:
Running 4 1/2 miles on Tuesday. My longest run to date! And it felt awesome.
Best deal of the week:
Using a bunch of coupon codes and discounts to get fourteen bottles of my favorite conditioner
for about half the price I normally but it in stores. In case the apocalypse comes, at least I'll have smooth and soft hair.
Best of the Internet for the week:
Katie Couric and Bryant Gumble try to figure out what this crazy thing called "Internet" is on the Today Show in 1994. My, how far we've come.
Favorite blog post of the week:
Caitlin writing about the five gross things most runners don't want to talk about. I definitely lolled at the phrase "snot rockets." Am I the only runner in the world that actually takes tissues with them? I stick 'em up my sleeve or in my bra strap.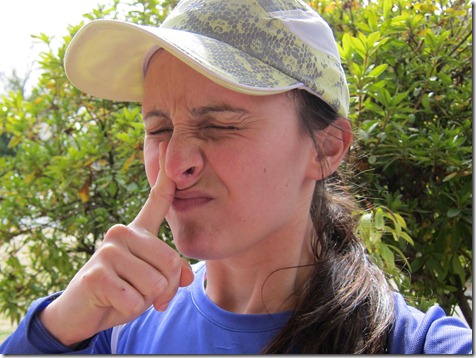 Favorite purchase of the week:
New, adorable orange luggage set! Which I will be using next when I when I fly out to Boulder on Tuesday.
Favorite photo of the week:
Love the adorable caprese sticks.
Happiest moment of the week:
Coming home and seeing that Babyface had turned our second bedroom into a home gym! Complete with a TV. He's such a rockstar.
Scariest moment of the week:
Preparing for icepocalypse 2011. Which turned out to not be that bad because the road crews and power companies worked INCREDIBLY hard to make everything a-okay. An inch of ice is no joke.
Triumph of the week:
Chopping off all my hair and putting in fun red streaks. A new haircut feels SO great!
Warm and fuzzy moment of the week:
Snuggles with Puppyface. She seemed to be just fine and dandy with the fact that I had to work-from-home a few days this week.
I hope you had an amazing week and here's to a relaxing weekend!
It is no secret that I love beans.
Beans are nearly a perfect food. Full of protein, fiber and nutrients. Plus they are incredibly tasty. Oh, and they are one of the cheapest forms of protein around. You can easily feed a family on a $1 worth of beans. Try doing that with meat.
Beans and spicy flavor were a match made in heaven. Many of the biggest bean-loving cultures are also the cuisines that use robust and bold flavors. Of these bold-flavored dishes, one of my favorites is red beans and rice.
Notably, I have two go-to recipes for red beans and rice. One comes from my Mama. It has whole beans, sausage and lots of great flavor. It is delicious but totally not authentic. And I'm sure it'll end up on the blog at some point.
The recipe I'm sharing today is my vegan red beans and rice recipe. Honestly, the vegan part was purely happenstance. But hey, I'll take it!
If anything, this dish is more like a bean sauce on top of rice. The line between bean and sauce is so fuzzy that you really have to embrace the mush. Obviously, the vegan portion of the recipe isn't traditional, but the texture and taste sure are. Oh, and did I mention I make it in the slow cooker? I love foods that cook themselves while I'm at work.
Vegan Red Beans and Rice
(modified from Fat Free Vegan Kitchen)
1 pound dry red kidney beans
5 cloves garlic, minced
1 large onion, diced finely (about 1 1/2 cups)
5 celery stalks, diced finely (about 1 1/2 cups)
1 large green bell pepper, diced finely (about 1 1/2 cups)
3 bay leaves
2 tsp. thyme
2 tsp. oregano
1/4 – 1 tsp. red pepper
1/2 tsp. black pepper
2 chipotle peppers in adobo sauce, chopped
1/2 tbsp. red pepper sauce (such as Tabasco)
1 tsp. Liquid Smoke
Salt, to taste
Rice, cooked, for serving
Soak beans in water overnight. Drain and place in crockpot, cover with 1 inch of water. Add remaining ingredients, except for salt and rice. Cook on high for 6-8 hours or until beans are mushy and soft. Season with salt before serving. Depending on the age of the beans, they may never break down. Then use a potato masher to mush them up. Serve over rice.
Serves 8.
Mine came out a little watery, but that's because I "overwatered" them to begin with. They were still delicious and the rice soaked up the delicious sauce.
A few tips for making this a speedy morning assembly. Go ahead and do your veggie chopping the night before. They need to be chopped fine, so your food processor will work just fine. Just put them in the fridge until the morning.
Chipotle peppers in adobo sauce add a really great smoky, meaty flavor without the meat. You can find these in the hispanic food section of your grocery store.
It took me about 5 minutes this morning to toss everything into the slow cooker.
And when I came home, all I had to do was cook up some rice and eat!
I have to say, the sour cream totally makes this dish. The cool, slightly sweet sour cream is really nice paired with the spicy beans.
Yum!