Posts Tagged "what i ate wednesday"
Let's all do a collective knock on wood, but I think I may have turned a corner with my morning sickness. The food aversions are still strong, I'm still trending toward sugary foods instead of savory ones, and I still don't have much of an appetite after 3pm, but as far as actually queasiness and tossing my cookies? It's been all but gone this week. I really hope this trend keeps on keeping on. It feels so nice to eat like a human again! And, the most amazing part, I actually feel hungry again. I haven't really felt like eating for months, I've just been eating because I know I need to. But to actually feel hungry and to satisfy that hunger with food is amazing!
It's the little things. Okay, onto my eats from yesterday . . .
After passing out promptly at 7:30pm the night before, I woke up at 5am absolutely ravenous. My big breakfast thing lately: frozen waffles. I made up a huge batch of these honey coconut whole wheat waffles (I really need to share the recipe with you guys, because man, they rock) and they are just stashed in the freezer waiting for a 5am trip in the toaster. I topped mine with a touch of maple syrup. Alongside, I had a bowl of wildberry whole milk yogurt (from this place, loving their dairy products) topped with some chopped plum and some blueberries. I also snagged a banana, because fruit is my life right now.
Breakfast #2 was a Larabar, pear, and a Fage Total with Cherry. Fage Total is my absolutely favorite Greek yogurt, and the kind with the cherry is out of this world. I can normally only find it in 0%, but Whole Foods had the whole milk kind this week. Yay! I also had a mug of decaf, with cream, maple syrup and coconut oil.
For a morning snack, I made a snack plate. I love these snack plates because they remind of the days when I used to pack myself bento boxes for work. On this plate: carrot sticks, grape tomatoes, a hard-boiled egg, apple slices and peanut butter, and a few peanut butter cookie date balls. Worth noting, I used raw peanuts to make those date balls this time, and they aren't nearly as good. Raw peanuts taste so much like a bean (which makes sense, since they aren't actually a nut, they're a legume). So these bites are a little…bean-y. But still edible.
Even though it doesn't photograph very pretty, lunch was a good one! Since I tend to have no appetite in the afternoon and evening, I decided to start making lunch my main meal (which is what a lot of experts recommend is the healthiest way to eat anyway). I made up a batch of not-so-normal beef stew. Craig's on a special diet for health reasons, and it means some of his veggie intake is limited, so instead of carrots and potatoes you'd normally find in beef stew, I put in rutabaga and zucchini. A little weird, but still tasty! Alongside, I had a couple of slices of buttered bread. Because stew isn't stew without something to sop up all the yumminess leftover in the bowl.
For an afternoon snack, I whipped up a smoothie. In the mix: banana, vanilla almond milk, an avocado, a dollop of peanut butter, a (tiny) handful of baby spinach, and a big, ole hefty scoop of unsweetened cocoa. Such a good combination. It's like drinking pudding. Worth noting: this is the first dose of any kind of dark, leafy green I've had since October. I really need to be making more green smoothies and tricking myself into eating more greens.
And of course, dinner was my typical bowl of cereal. I had some shredded mini wheats with banana. And then right before bed, I dug into a yogurt and a peach. One day, real dinners will return, I promise.
Big thanks go out to Jenn at Peas and Crayons for hosting this fun food-filled party. If you guys haven't clicked over to the main WIAW post yet, you should! There are so many fun eats and so many new blogs to discover.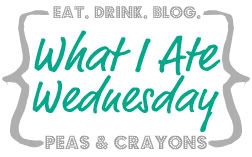 What's the best thing you've eaten so far this week?
Sigh. I was hoping I'd be able to write some big, happy, excited post this week about how my morning sickness is totally gone, and I'm back to eating like a rockstar—but alas, the progesterone poisoning (a phrase that was coined by one my readers and makes morning sickness sound a lot more evil—which it is) continues. I have had a few good days of recent—where I feel more or less normal for the majority of the day—but those are still greatly outnumbered by the not-so-great days. Maybe next week I'll have better news to report?
I snapped this week's WIAW pictures on Monday, and it was actually a pretty decent day. I felt like my normal self until about 2pm, and then my afternoon sickness kicked in. And I crawled into bed and watched six episodes of Gilmore Girls. I <3 being my own boss.
Onto the eats…
Breakfast was a big ole bowl of Cheerios topped with bananas and blueberries. Plus a pineapple Chobani on the side and a glass of cranberry juice.
My tummy was feeling okay this morning, but my head wasn't. I woke up with a killer hormonal headache. The only cure I've found that works for me? Caffeine. This mug of frothy half-caf killed my headache within a half hour.
You can tell I was feeling good because I didn't have a second breakfast or a snack! I think I went four whole hours without eating, which is a new pregnancy record for me. Lunch was rye crisps topped with chicken salad—I actually sorta cooked something. Granted, I just tore up a rotisserie chicken and mixed it with a bunch of things, but still, it's cooking! On the side, I had some veggies, a pear and a bowl of yogurt with granola and blueberries.
Post-lunch, things started to go downhill which means I gotta keep eating and keep eating lots of protein (the only thing that I've found that helps take the edge off of my morning sickness). For an afternoon snack, I had some cheddar cubes, dates, a granola bar and some apple slices with peanut butter. Pre-pregnancy, I was kinda indifferent toward peanut butter, but now? I'm a big fan. Super tasty and quick source of protein.
Dinner was an open-faced egg and bacon sandwich on a sourdough English muffin. With a glass of milk on the side.
My pre-bed snack was a replica of my breakfast—a big bowl of Cheerios topped with banana and blueberries. Plus a yogurt on the side and a mug of tea. I'm not sure what this Pregnancy Tea does for me, but it sure does taste good with a bit of honey in it.
Big thanks go out to Jenn at Peas and Crayons for hosting this fun food-filled party. If you guys haven't clicked over to the main WIAW post yet, you should! There are so many fun eats and so many new blogs to discover.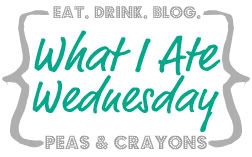 What's the best thing you've eaten so far this week?
It's been a long while since I shared a What I Ate Wednesday with you guys (back in August!). If you're new around here, What I Ate Wednesday is a weekly pictorial look into a single day of eating. It's a great way to see what folks are doing for meals and snacks, plus, it's just flat-out fun to get a peek into bloggers' everyday lives through their eats. You can learn more about WIAW here.
I really enjoy doing WIAW, but I was hesitant to bring it back while I'm pregnant, because the controversy surrounding what a pregnant lady should and shouldn't eat is right up there with gun control and which of Rory Gilmore's boyfriends was the best (Logan, obviously). And admittedly, with my morning sickness and food aversions, my eats haven't been the healthiest or cleanest lately. But I decided to go ahead with it because I think it's nice to see an honest picture of how someone eats throughout a day in all situations—even a pregnant lady who is struggling.
So that being said, I know you all are super supportive and awesome and will cut me some slack when my dinner is a PB&J on white bread (scroll down). And then maybe say a little prayer that my morning sickness will relinquish me from its grasp some time soon. Alrighty, onto the eats for this week (which were photographed on Sunday).
I'm pretty consistently waking up between 5-6am everyday, not because I'm done sleeping, but because my belly is so empty and it demands I wake up and fill it. I usually stumble around the dark kitchen and grab something easy, like this bowl of granola and milk, Greek yogurt and orange juice. I learned early on in pregnancy that protein is king when it comes to keeping morning sickness at bay, so I've been eating a ton of yogurt.
Breakfast #2 happens a few hours later, once I'm actually awake enough to function. Kodiak Cakes with scrambled eggs, fruit and milk. I used to be a total skim milk kind of girl, but then I switched to 2% early in my pregnancy for the extra fat and protein (which was especially important back in the first trimester when my diet was almost entirely made up of saltines), and now I don't think I'll ever switch back. 2% forever!
Grab a banana to hold me over until lunch. My days lately are always front-heavy, meaning I eat a lot until lunch (when I feel mostly normal) and then after about 2pm, I start feeling really bad and have to force myself to eat. I don't have morning sickness, I have afternoon/evening sickness. I haven't made and eaten a "real" dinner in four months.
Lunch is some chicken salad on rye crisps with some veggies and hummus—which I didn't eat. I'm not sure why I thought I could eat hummus considering one of my biggest food aversions right now is garlic. Hummus=garlicky, in case you didn't know. But the rest of it was delicious! And Craig is happy that he gets the tub of hummus all to himself.
The aforementioned PB&J dinner. Normally I try to get a snack in between lunch and dinner, but I really wasn't feeling the whole eating thing on this particular afternoon. But I gotta eat, or the nausea just gets worse. Dinner was the monochromatic combination of PB&J (on white potato bread, which has been my bread of choice during pregnancy), tortilla chips and cottage cheese (for the protein).
One of the best pieces of advice I got early on in pregnancy is to eat right before bed to help keep morning sickness at bay (and some people even eat during the middle of the night, too), and it definitely helps for me. And empty tummy is an unhappy tummy. This is my standard nightcap: Greek yogurt, a granola bar and a piece of fruit (this being the yummiest pear ever).
Big thanks go out to Jenn at Peas and Crayons for hosting this fun food-filled party. If you guys haven't clicked over to the main WIAW post yet, you should! There are so many fun eats and so many new blogs to discover.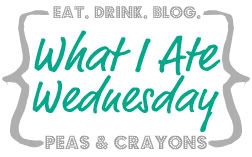 What's the best thing you've eaten so far this week?

One of my less-than-admirable qualities is that I'm not a good eater when I'm busy. I get on a roll with something (in this example, I was cleaning) and I recognize that I'm hungry, but I just push it aside to keep on doing what I'm doing (sweeping, mopping, dusting). It's not nearly as bad now that I work from home, but there would be some days at work that I'd come home with a lunch box as full as it was when I packed it in the morning. I'm always afraid of stopping my productive momentum to take a break and eat. As world-class procrastinator, I'm always fearful that my momentum wont get started back up again. I have issues.
Anywho, there isn't a whole lot of food into today's WIAW because I spent the majority of the day cleaning the beejeebus out of our house. Next week, I promise to eat betterer.
I did whip up a big fueling breakfast before I started cleaning. I sautéed up some garlic and onions in a little bit of bacon grease (I <3 keeping our bacon grease) then added some chopped tomatoes and red cabbage. I mixed that all up with some leftover quinoa and topped it with two sunny-side-up eggs. To drink, I had a glass of our own grape juice.
Skipped lunch and all snacks (but damn, my house is clean) but for dinner, I dug into a giant bowl of chili mac! I snapped this picture before I added the toppings. I tossed some crunched up saltines, shredded cheddar (SHREDDAR!), diced onions and Greek yogurt on top. YUM.
Once my chili baby digested, I had a slice of chocolate cake rescued from the back of the freezer.
As always, big thanks go out to Jenn at Peas and Crayons for hosting this fun food-filled party we have every week. If you guys haven't clicked over to the main WIAW post yet, you should! There are so many fun eats and so many new blogs to discover. You could lose a handful of hours just discovering new friends and foods!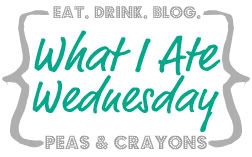 What's the best thing you've eaten so far this week?

Everyone give WIAW a big, warm hug, because it's back from exile! I had to nix WIAW for a while because pretty much what I ate on Wednesdays was entirely made up of secret cookbook recipes. I couldn't very well be showing you all the goodies before even my editor saw the book. But the recipe development part is finished, and now I'm back to eating not-so-secret food.
It should come as no surprise that we are eating a whole lot of food from the garden lately. Even though our garden isn't doing the best (the bug/disease/weed differences between a small city garden and a big country garden are like night and day, we've got a lot of changes in store for next year's garden), we're still producing enough food to fill our bellies. That's the beauty of having a giant garden with a ton of crop diversity, something is bound to do decently no matter what the circumstances. So, be warned, you're about to see a lot of tomatoes and cucumbers.
Happy WIAW!
Breakfast was Papaw Eggs! Growing up, my Papaw always made me soft boiled or poached eggs mixed in a bowl with little torn up pieces of toast for breakfast when I was visiting. Now, I make Papaw Eggs with a little more umph. I sautéed a clove of garlic and a touch of diced onion in some butter, then added some Brussels sprouts greens (so good!), and halved cherry tomatoes. That went on top of the torn up bread—homemade by my amazing baker husband—and then two poached eggs went on top of that. So yummy!Along side, I had some watermelon and blueberries. Our melons have yet to come off, but we got this guy from a local farmer's market last week. Did you know that Southern Indiana is one of the highest producing areas in the country for melons? People drive from all around to buy melons here, specifically from Jackson County (which is the county directly north of where I live). The legend is that the county has the perfect amount of sand in the soil that makes melons from there just absolutely perfect. They are pretty darn delicious.
I spent all morning yesterday in the kitchen catching up on pickle-making. Usually when I'm in the kitchen, I tend not to eat meals because I do so much nibbling, but there isn't much point to nibbling on uncured pickles, so I made myself a snack. A hard-boiled egg, a few blueberries and a couple of Lemon cucumbers, eaten apple style. No, they don't taste like lemons, they just are yellow and the size of lemons. They taste like delicious, delicious, hand-held cucumbers!
I made myself a burrito for lunch. Inside is just some salsa, refried beans, guacamole and cheese. And then I fried it up in some coconut oil. Does it defeat the health benefits of coconut oil if I use it to fry things? Probably, but it's delicious, so I'm okay with it. I topped my burrito with a little bit of Greek yogurt, some more salsa and some avocado chunks.
For dinner, we kept it simple: BCTs. Bacon, cucumber and tomato sandwiches. Alongside, I had a few dill pickles (from last year's batch), and an ear of grilled corn. For dessert, I had one of these blueberry tarts that somehow escaped the prying eyes of the camera lens.
As always, big thanks go out to Jenn at Peas and Crayons for hosting this fun food-filled party we have every week. If you guys haven't clicked over to the main WIAW post yet, you should! There are so many fun eats and so many new blogs to discover. You could lose a handful of hours just discovering new friends and foods!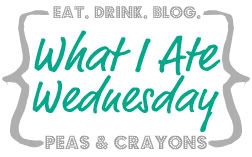 What's the best thing you've eaten so far this week?